Today's song is so fun. My daughter knows every word. I enjoy hearing her sing, "ha ha ha HO HO HO" at the top of her lungs! However, my favorite part is the end,
"Do you hear the sound?
A thousand angels are singing out
To God Almighty, we're bowing down
And that's what Christmas is all about…"
Today, I journaled those words and paired it with John 12: 35-37.
As I read this chapter, my heart was filled with so much pain for our Savior.
Maybe it's because this is my first year to celebrate Christmas in the face of heartache with a younger brother who's decided to deny Christ.
Whatever it was, verse 27, stood out to me, "now is my soul troubled." I pondered the trouble Christ was feeling.
Was His soul troubled from the weight of our sin, the pain of every broken promise, or the agony of every secret sin? I am sure it was a combination of it all.
Yet, the beautiful fact is that even though His soul was troubled He still bore the punishment of our sin. There wasn't a single moment He ever considered giving the weight of that sin back to us, He took it all.
How could we not be filled with awe and bow down to worship him?
Over 2000 years ago not everyone saw Christ as their Savior (even after He performed MANY more signs). Verse 37 says, "and they still did not believe." I can't imagine the heartbreak and rejection He must have felt.
Let that not be us. Let's be intentional to bow down, quiet our souls, and worship Christ this Christmas… after all, that is what Christmas is all about.
STEP ONE:
I used a stencil to make my title but I think scrappy stickers would also be fun.
I LOVE this TN so much that I printed all of the pages on lightweight cardstock because I knew I would be reaching for them as layering pieces throughout the month.
After I picked which paper would be my main background I grabbed a few goodies from the ephemera pack and started laying it down on the page and filling in blank spaces.
STEP TWO
Did I mention how much I love this paper? LOL! Obviously some of it needs to be turned into CONFETTI!
I used a glue stick and randomly placed them down on the page and finished by adding a few starburst stamps. In the photo, you see my Fruit of The Spirit stamp.
I ended up not going with that starburst because I felt like it was too distracting, but I did use the star cluster in the stamp from this month's kit!
STEP THREE:
I kept this tab simple by cutting out the song title, layered washi, a scrap piece of a grid label, and finished with a few starburst stamps. EASY PEASY!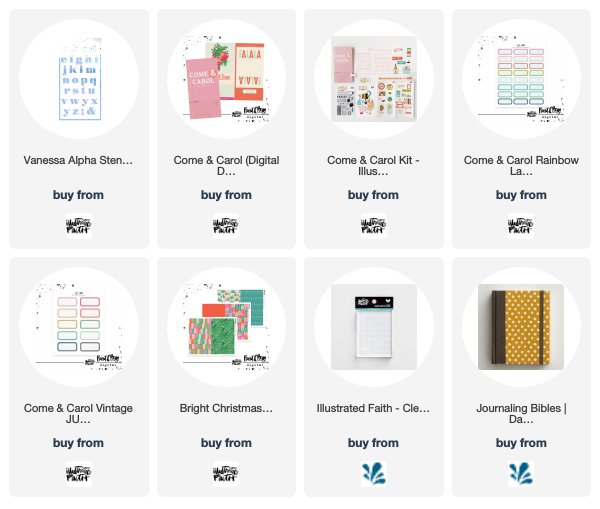 Additional Supplies: versa fine black ink | glue stick | hole punch