It is the week before Christmas! Can you believe it?! I don't know about you, but time certainly seems to fly x 1,000 this time of year. Today I'm sharing a great way to slow down for a few moments, get creative and spend some time with our Savior Jesus.
Today I grabbed Shanna Noel's Advent Journal The Wonder of Christmas and a few favorite Bible journaling supplies. But don't be fooled! The cover may say "for girls" however, this thirty-something gal is loving it too!
I jumped in on day sixteen, A Mother's Heart. Shanna encourages us to mediate on what God is teaching us, like Mary did with the events surrounding Jesus' birth. She provides a few great ways to meditate on and understand scripture, too. I love that each day includes a creative spark, a place to get creative.
First I wrote down the verse I wanted to focus on, John 10:17-18. I love this reminder that Jesus willing laid down his life for us. No one took it from him, it wasn't given under compulsion, but his is a self-less, loving and generous sacrifice. I used these colorful alphas form the Print & Pray Shop to note that this was a quote from Jesus. I wanted to be sure to bring colorful elements to both sides of the book.
To help decorate I used pieces from the Come and Carol kit, snowflakes from Mandy Ford's Hygge Holiday printables and snowflake stamps from the Beloved Society Christmas Girls stamp set. As I placed each element on the page I thought of the prayer I wanted to include on the Wonder Journal Spot at the center.
I so enjoyed the opportunity to spend time reflecting on the BEST gift ever given, Jesus.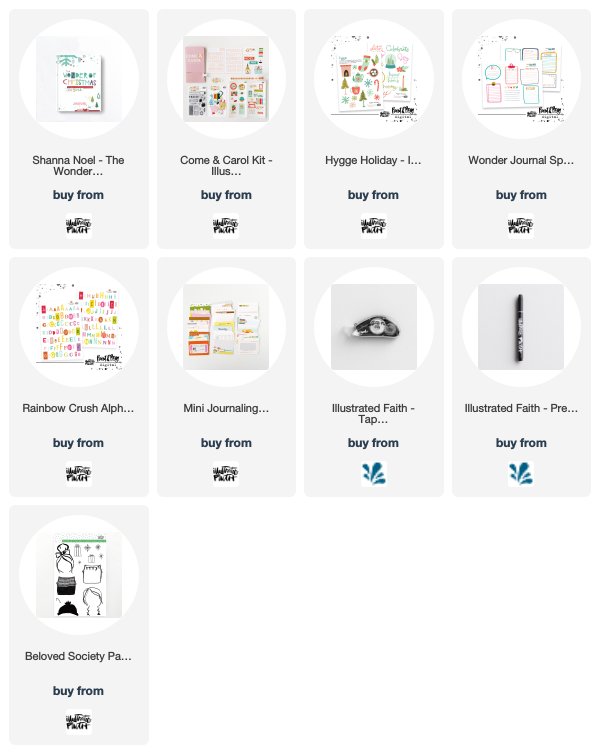 Additional Supplies: Studio Calico mega date stamp | StazOn jet black ink