Happy Monday! I am taking a quick break from Gratitude Documented to share this fun Bible page featuring a waterfall of journaling. Of course, you could totally incorporate this idea into your Gratitude Documented project too.
In addition to loads of journaling, I also want to feature Brianna Showalter's latest Print & Pray Shop collection, Oh Praise Him. Her floral patterned papers are beautiful, as always!
Recently my pastor used Jesus' parable of the bags of gold in Matthew 25:14-30 to illustrate some of the characteristics of a lukewarm faith.  Not long before, I had read something similar about this parable. I was excited to spend more time in this passage and journal those take-aways in my interleaved Bible.
First I trimmed three 2″x 3″ rectangles from Brianna's Oh Praise Him patterned paper bundle. Next I typed my notes on a 6″x 6″ piece of grid card stock. I penciled in guides on the card stock to make sure my journaling would fit on the underside of the patterned paper rectangles. Then I trimmed my journaling down to 2″ x 3″ and adhered it to the reverse of the patterned paper.
I wanted to have numbers one to three hanging off of the side of each piece of paper. So I stamped the Homespun numbers in coordinating ink colors and then cut out each number. I needed something more substantial to flip each rectangle, so I trimmed and added Elaine Davis' rainbow grid labels for sturdier handling. Once each journaling card was assembled, I used a neutral grid washi tape to adhere the cards to my page. I was sure to rip a piece of washi shorter than the length of each card and put half of the washi on the page and the other half on the card. This makes for optimum flipping.
Next I added three floral printables from Brianna's ephemera set, printed on clear sticker paper. I also incorporated stamps from the Word Nerd devotional kit-they are just so versatile!
I used the Heidi Swapp Honey & Spice alpha stamp set for the first third of my title and added handwritten journaling under the bottom journaling card. And finally, I topped off the page with the perfect wordfetti, one more floral sticker and a date stamp.
I am so tickled with how many notes and journaling I was able to fit on my page using these colorful, interactive pieces! AND, I so enjoyed spending time in this parable-there is so much to glean from Jesus' words!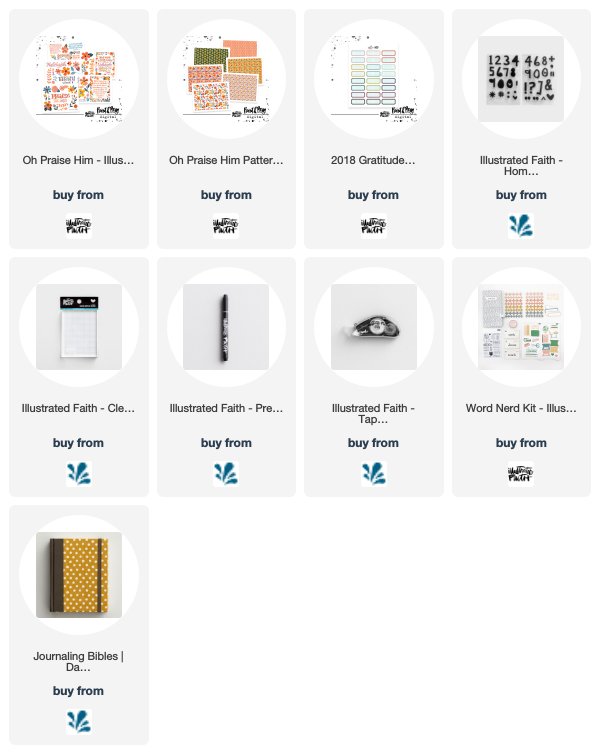 Additional Supplies: Avery 8665 clear label paper | Tim Holtz tiny attacher | Kelly Purkey hybrid inks  (Outdoor and Urnban ink sets)| Studio Calico Coral Bay pigment ink | StazOn jet black ink | Heidi Swapp Honey & Spice alpha stamps