Hi friends! Can you believe we are almost halfway through the month of Gratitude Documented?! I'm so glad there's still more month left to journal these daily prompts! If you're new here and just finding out about all things bible journaling, briefly put, Gratitude Documented is an entire month devoted to daily prompts of gratitude. We match these with a passage in the bible, and journal however we like to suit the theme.
Many people practice gratitude all year round, but there's something so special about doing this in a community with other bible journalers! Today, I'm sharing a little bit about how I'm working through the month in my Travelers Notebook. Also, I'm using printables from the Illustrated Faith Print and Pray Shop! One of the cute new releases this month came from designer Mandy Ford. I love her new collection – Heartfelt. This set has a main kit and a patterned paper add-on.
These cute pieces with a Scandinavian-feel are just perfect for this project! To start, I have a few of my pieces laid out with my blank notebook. This notebook is a 014 Kraft Paper notebook. I love the krafty brown feel of the paper with the fall colors. This navy patterned paper is so beautiful that I've decided it must go on my cover, immediately. Above, you can see where I'm getting it all prepped. I just used a glue stick to attach the paper cover. I left the white edge all around because it's not quite long enough to cover the whole length of the book. On the back, where I cut part of the patterned page off, I used a white gel pen to fake a white edge.
As I've been working in the notebook, some days have just one page (half) and some pages are a double-spread. Today's entry will be both pages because blog post day is a special day and I want it to look pretty for your peepers. The prompt for today is "scripture" and it references John 1:1 "In the beginning the Word already existed. The Word was with God and the Word was God." You can find a free list of all the prompts for November here.
I love this prompt because it has a double significance for me. Not only is it amazing that we have the written Word of God, but through journaling, I've grown to love the Word of God! Creating in my bible has leant a new meaning, and a new way to worship God, that has created so much joy for me. How wonderful that we serve a creative God! I'm so grateful we have His Word and it's so close that I can grab it whenever I need it.
On these pages, I used the hearts patterned paper as a background, and I used a manilla tag envelope to enclose some journaling on a 3×5 card. Since I filled up the whole area, it was fun to add extra room this way! I find these tag envelopes at my local art supply store. They are extremely affordable (a dollar will buy a few).
One final note, I've been including numbers (for the date) with each day's prompt. Today's was written with a stencil, also found in the Illustrated Faith shop under "Kits and Add-ons." Thank you for joining me here today, friends! It's not too late to join in on this year's Gratitude Documented prompts. There are tons of fun printables in the Print & Pray shop to peruse, and of course the digital version of the Gratitude Documented kit. This kit contains the the fun, vintage-looking flashcards with the daily prompts. Or you can journal along in a notebook or a bible. Whatever you choose!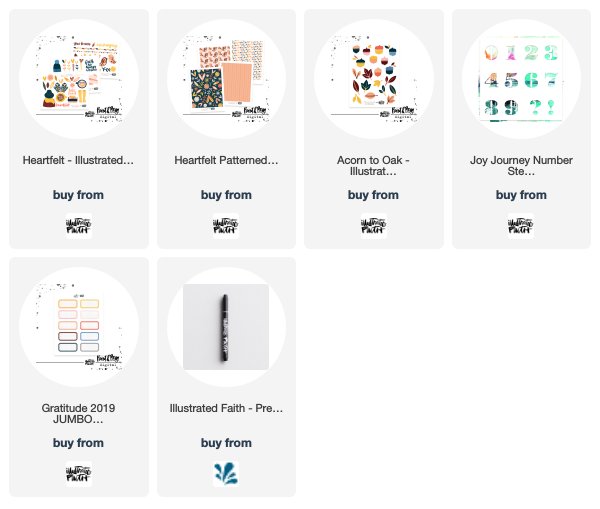 additional supplies: Kraft Traveler's Notebook