Friend, I don't know what heart layers you struggle with, but I know we all struggle in one way or another. Over the years, I've learned that it's normally fear tucked within the layers of my heart that cause me trouble.
I struggle with fear of the unknown, anxiety of loved ones dying, fear of not being enough or not doing enough, and the list could go on.
One of my earliest memories of being afraid is when I was 3 or 4 years of age. I clearly remember my mom left me in the car with one of her friends to run into the store. She said she would be back in five minutes, but five minutes passed and still, she was nowhere in sight. Six minutes, seven minutes, and the clock kept ticking.
Finally, I burst into tears and said, "MY MOM IS DEAD!!!!!" The sweet friend watching me said, "What do you mean? Why do you think your mom is dead?" Through a wave of tears, I replied, "Because she said she would be back in five minutes, and it's been seven!!"
My mother's sweet friend did her best to console me, but I just knew, my mom was dead. I mean, what kind of a mom leaves you for seven whole minutes when she clearly said she would be back in five!
I remember our friend asking if I saw any policemen, firefighters, or maybe an ambulance. I told her no, I didn't see any of those people and together we waited.
Eventually, my mom did come back, and all was right in my little world again.
Now here's the real plot twist of the story, the friend watching me, was blind!
I still laugh when I think back to this memory! How sweet and calm she was while I spent ten minutes crying in fear of the unknown and yet, she lives her whole life in the unknown!
When fear comes calling,  I often go back to this memory and remind myself, it doesn't matter what I can't see. The One who can see is leading me. Each time I face my fear and put it in its proper place, I get stronger. I learn that fear is a liar. And even when I feel my fears are "justified" I can tell my fear, who my Jesus is and walk in victory.
"Greater is He who is in me than He who is in this world."
If fear is tucked within the layers of your heart, I hope you will join me as we place all our trust in Jesus.
Isaiah 40:28-31


Do you not know?




Have you not heard?


The 

Lord

 is the everlasting God,


the Creator of the ends of the earth.




He will not grow tired or weary,




and His understanding no one can fathom
Let's Create!
When I make a layered entry using paper,  I like to crinkle, rip, and smudge my paper, anything to add lots of yummy texture! I start by pulling out my Print & Pray products that go with the kit and then I look through my scraps to see if I have anything else that coordinates.
You'll see I found some florals that had been stamped on craft paper. They worked perfectly as an anchor for the page. Once I glued those down, I kept pulling from my ephemera pile until I was happy with the layout. The fun thing about layering paper is it can be as simple or as messy as you'd like!
Let's add a title!
For this title, I used the Joy Journey stamp, Illustrated Faith Emily stamp, and Storyteller stamp.
For my substile, I used my Dymo label maker.
I had an extra grid label so I cut it in half to frame my verse.
Let's stamp! 
At this time, I go in and add depth to my page with art marks. Again, keep it simple or go crazy! It's all up to you.
I chose to add these art marks around the page where I felt like my eye was being drawn to but had nothing to look at.
Ta-Da! 
And just like that, you're done! I did go back in and add some mustard thread behind my paper just to give it a little somethin'-somethin.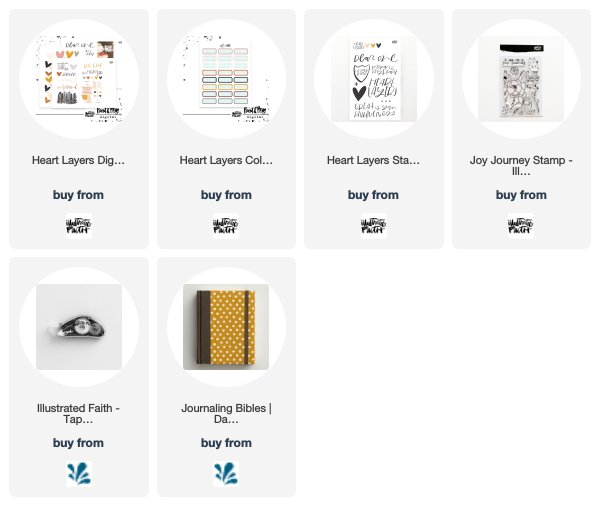 additional supplies: Illustrated Faith Emily alphabet stamp set | Dymo label maker | Tim Holtz mini attacher