Hi Friends!!! I don't know about you, but this winter has forced us to stay indoors a lot… which means more Bible journaling!!! I'm seriously loving spending time worshiping through the Mark Maker devotional kit and I thought we would go back to basics for painting our background this week. Dry brushing is one of my favorite ways to create a fun background while worshiping and dancing and listening to worship music. I also have fallen madly in love with the "amen" stamp and was inspired by it for this devotional. I have so many amen moments that I couldn't even list them all… everywhere for growing up in a Christian family to our miracle babies after infertility. I even consider my start with Bible journaling a big "AMEN" moment, when I first say Shanna scrapbook in her Bible and knew this was the heart language I had been craving to grow my relationship with God.
AMEN AMEN AMEN!!!
I had fun with this background and I might have gone a little overboard with that "amen" stamp. I also really loved dry brushing the foam alphabet stamps and almost went overboard with that one too!!! Needless to say, I couldn't get enough of shouting AMEN all over my Bible!
TECHNIQUE ONE:
add paint to a dry paint brush that hasn't been dipped in water or anything
Dry brushing is pretty much the same as just painting on your page with a paint brush… only, before you put the brush to the page, you want to brush off some of the paint on a paper towel.
I like to brush in multiple directions with the paint brush, up and down, over and across! Do this multiple times to create the coverage you want. I love the imperfection this creates!
Do this all over your page, whatever makes you happy!
Play around with different sized brushes
TECHNIQUE TWO:
Do technique one, brushing paint over your stamps before stamping them on your page.
I find this works best with images that are solid images without fine detail.
Those are the two techniques I wanted to share for dry brushing… now let's finish our Bible journaling entry. First, I grabbed one of the mark making stamps and stamped using my Faber Castell Big Brush markers.
Then I added all the die cuts… I loved the little hearts that looked like they were dry brushed so those were the elements I wanted to add to the page.
Then I remembered I really wanted to use that "amen" stamp so I peeled off some of the die cuts and stamped using a Faber Castell Big Brush marker again.
Lastly, I added a date stamp and journaling to finish it up! I hope you have fun with these techniques and I can't wait to see them. Be sure to tag @illustratedfaith on Instagram so we can see them!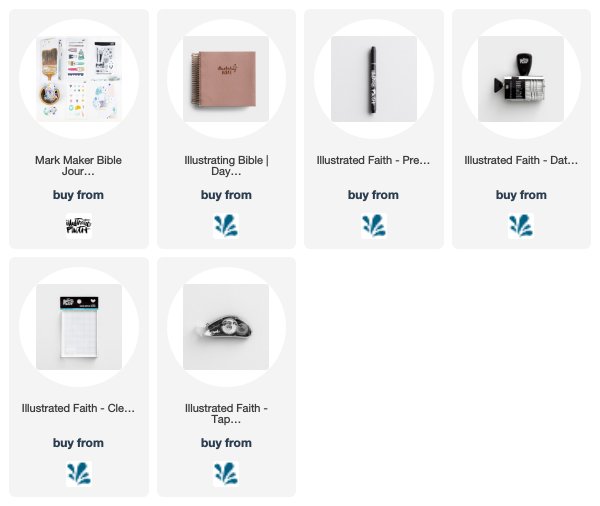 additional supplies: Faber Castell Big Brush Markers – Green Gold, Warm Grey III, and Dark Indigo |  HandMade Modern paint from Target – Robin's Egg, Oxford Blue, and Sherbet | random paint brushes