Spring Greetings Dear Illustrated Faith Family!
I am loving the new collections Illustrated Faith released!  Today I decided to play with the new Fruits of the Spirit Collection.  Sooooo good.
How often I have wished that the fruits of the Spirit flowed through me freely.   After 20 plus years walking with Jesus, my flesh still sneaks out, especially when I am squeezed by circumstances, I am tired, hungry, or not feeling well – anybody?????
What's the deal?   What's the key to living a life full of fruit?
The Passion translation of Galatians 5:22-23 describes His fruit like this –
But the fruit produced by the Holy Spirit within you is divine love in all its varied expressions:

joy that overflows,
peace that subdues,
patience that endures,
kindness in action,
a life full of virtue,
faith that prevails,
gentleness of heart,
and strength of spirit.

Never set the law above these qualities, for they are meant to be limitless.
Divine Love expressed.  His love expressed.  Limitless…. Yes, sign me up.  I want His fruit to be limitless.  I agree His love is WAY better than any I can offer.
But here's the deal.  I don't think any of that can happen without yielding.
Allowing space for Him to come and fill ALL the places.  So although it would be nice to maybe pick one of the fruits and "work on it" I don't think that is the key.  I don't think admiring the fruit or reading about it is the solution.    I think the key is totally yielding to His Spirit.  Basically, admitting, I don't have it.  I can't do it.  Whispering — Jesus come — Jesus take control.  Come let YOUR LOVE be my source for all things.
Let's journal truth my friends.

Let's start with some inspiration.  Just look at all this goodness in Illustrated Faith's new Fruits of the Spirit Set.
So I wanted to have a kind of crayon looking background for some of these yummy pieces.  I decided to grab my Neocolor II crayons.
I really want to use the branch so I decided instead of fruit, I am going to scribble down some abstract flowers.  I started with NeoColor II rose. and began working loosley.
Beginning at the center of the "flower" and working around in a circle pattern.  Once I have all of the pink down, I added Neocolor II orange.
Bringing back in a different pink with Neocolor II Saumon.
Next the dark contrast color Neocolor II Carmin with a lot more "scribble" action.
Adding water with a watercolor brush.  You can completely blend the Neocolors but I prefer to just "touch" them with water because I like the crayon look.
Yep.  I like it.
I know I am going to put a paper piece in the lower corner so I just started adding more flowers around that area.  I brought in some simple bullet flowers (just a swirl) with Neocolor II Scarlet.
More bullet flowers – you can see the apple on the right which was my inspiration for adding the scarlet color.
Hmm…. needs some more flowers and maybe some shapes.  Adding Triangles with Neocolor II Flame Red (aka darker orange).  And some leaves with Neocolor II Olive Clair.
More flowers.
A bit of water.
I love how the triangles and bullet flowers pop when washed with water.
Close up.
Yes, love.
Time to add some kit embellishments.  I love the washi tape.  I ran it along the top of the page to bring color up.
Paper pieces.  I added a tab from the kit on the top and I am gluing down my favorite branch and setting a few other options to the right side.
But wait.  Look what I found, another OPTION!  Yikes!
Yep.  JESUS take control wins.  I can't exhibit any of the fruits of the Spirit without Him.  I cut out a heart out of the 12 x 12 Borders Page because I still wanted a solid pink piece in the corner.  So fitting because, where I need Him to take control is in my heart.
Gluing down more pieces.  Don't you just love these little crosses?
And an orange cross sticker.  Layers, yummy layers!
In order for Him to take control, you have to trust Him!
Love my tab areas.
Date stamp.
I hand wrote "#trust" because it's worth repeating!
Underlining scripture.
Oh, yes, Jesus take control.  Bless me with the fruits of the Spirit.
What a pretty, colorful mess of His goodness.
I love being His.
What can you scribble with Neocolor II crayons?  Tag me!  I LOVE to see what you create!   Instagram @designsbyamybruce.
Let's live yielded and let the fruit of the Spirit grow all around us.
In His Light,
amy bruce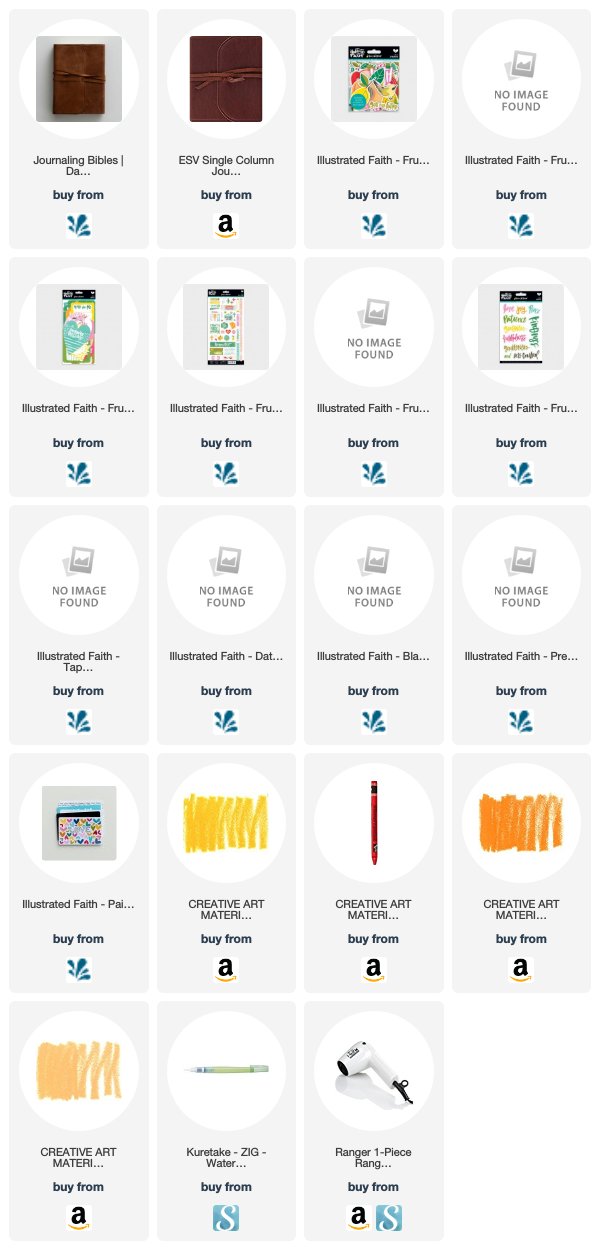 additional supplies: Neocolors II – Olive Clair, Rose, Carmin