Hi friends, who has been joining us for the Stronger Together devotional? I've been loving the house stamps and especially loving the add on stamp set with all the house pieces. Today I wanted to share how easy it is to stamp with acrylic paints. It's not perfect which is my favorite part of mixed media stamping, but the results are so much fun. The past few months I've been spending a lot of time in fellowship with friends and so I really wanted to journal this verse that reminds us not to forget to gather together for worship and to encourage our friends. It's my favorite part of retreats, conferences and camping which have taken up the past several weekends. It's so important to recharge and renew our focus and purpose to love God and love and serve others.
STEP ONE:
Gather Supplies : layering stamps, assorted acrylic paints, acrylic stamp block, Bible and Bible mat (I used two, one for a palette)
STEP TWO:
using your finger swipe acrylic paint on the solid background piece stamp
STEP THREE:
stamp down on your Bible where you want it… this is where the imperfect fun comes. I encourage you to embrace the imperfect and not worry about smears or blotches.
STEP FOUR:
Repeat steps 2 and 3 repeatedly until you're happy with the background stamping.
STEP FIVE:
for the outlines and decorative pieces you will repeat steps 2 and 3 again… but instead of swiping paint you're going to dab on the outlines (swiping will just take away the paint from the outline)… don't worry too much about paint in between the outlines as long as it's not too much or too gloppy.
Keep repeating all the steps until you are happy with your background… I ended up going back and adding in some trees.
STEP SIX:
Once you are happy with your background… add your die cuts, journaling, tabs, date stamps, etc…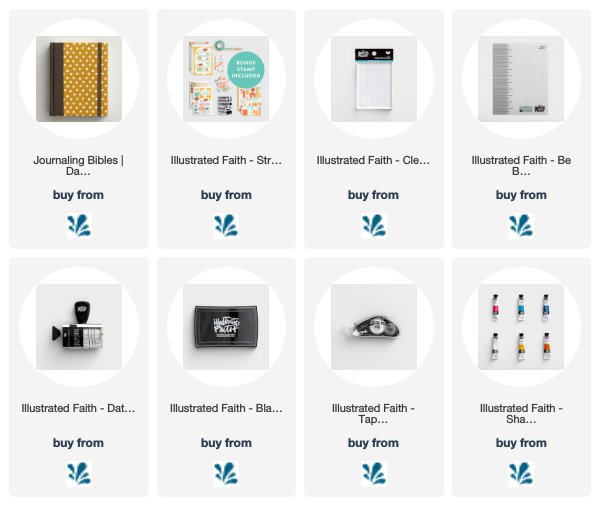 addtional supplies: assorted acrylic paints – HandMade Modern from Target… the white is the Illustrated Faith paints.