Let's print and pray and SEW!! Hi friends! This is Cristin, and I'm so (sew!) excited to share a few projects with you that I've created using printable fabric and the cute Print & Pray digital sets. I've stitched up some colorfully cute organizers using embroidery hoops. How fun would these be in your crafty space or as a gift for a friend?! For each project, I'm using printable fabric sheets that I used in my home (read: non-fancy) inkjet printer.
I thought it would be fun to create some embroidery hoop organizers for my work space. Cute starting ideas were found on Pinterest by browsing "embroidery hoop organizer." I happened to have a plethora of embroidery hoops on hand that I picked up at a thrift store. You can find these hoops in any craft or sewing store in lots of sizes, but I seem to have good luck finding these secondhand very inexpensively. And you might find other treasures while shopping! Usually, the hoops already have some sort of lace/fabric/cross-stitched bears inside. Test these hoops first to make sure they are not glued together too tightly. If you accidentally purchase a glued hoop, you can soak it in hot, soapy water and that may help. I've had to do that. These will look so cute on your walls!
For this project, I used Tamara Arcilla's newest set in the Print & Pray Shop called Harvest Festival. How cute are the acorns and leaves?! This set coordinates with the Illustrated Faith Gratitude Documented line, which you can see here. The hoop above is set up with cute things from the line including die cuts, clips, journaling cards cut from the patterned paper, a pen and a tape runner.
To make these cute organizers, I first printed the elements I wanted to use onto the fabric sheets. Find a link at the bottom of this post showing the brand I used. Please note, there are many brands of printable fabric sheets at varying price points and quality. If you are creating something like a mug rug, you will want to look for washability in the brand you select. The brand I'm using is not washable without treating, but is inexpensive for experimenting. Be sure to change the printer settings to "best" when printing on fabric to get a nice, crisp image.
The printable fabric sheets are backed with a piece of paper that you peel off after printing. The fabric itself is a little thin, so I ironed on a medium weight fusible interfacing to give it a little stability and increase the opacity. (This is an optional step.) I cut out the elements leaving a 1/8″ white border and stitched them down onto the background fabric. Check your local fabric and quilt stores for coordinating fabric for your background. You will want something with a small pattern that is not too "busy." This small heart pattern is by Dear Stella. I did not fold under the edges of the printed fabric pieces; but simply left them "raw" so they may unravel a little. This hasn't been a problem, though. You can also glue them down if you want to make this a no-sew project!
You may have noticed the little hand-stitched crosses sprinkled throughout, and these were hand-stitched with coordinating embroidery floss.
This small hoop with the wood slice is so cute, and the easiest hoop to create! Just stitch the wood slice element onto the background fabric and center it inside the hoop. Easy peasy! To finish the back of the hoops, I glued the fabric down, folding it toward the middle. Leave extra fabric just in case the hoop needs to be reassembled later.
This hoop holding the clips is my favorite! The oval shape makes a wider space to tuck cute things in! I love the coordinating Designer Clips for the Gratitude Documented line. Being able to see them easily makes it more likely that I will use them in my bible pages. Pockets are easy to add to a hoop, and you don't even need to sew the pocket, if you don't want to. The easiest way to make one is to fold a piece of fabric in half and make the crease the top edge of the pocket. Lay the folded piece on top of the background and tuck inside the hoop. That's it!
How cute would these look in your creative space?! The last project (pictured below) is a hanging hoop bag. I found an informative tutorial here to create this bag. Daily, I use mine as a scrap catcher on my desk where I bible journal. I attached a stick-on hook to a desk leg and hook the metal part of the hoop over the hook. It works as a mini garbage can for catching paper scraps when I bible journal. Perfect when I'm cutting out the Print & Pray sets!
But seriously, friends: how cute would this be as a gift for a bible journaler/scrapbooker? Loaded with cute supplies like these die cuts, tip-ins and a pen?! All you need is one hoop, and you can switch out the fabric bag for the seasons. Can you see this with Christmas patterned fabric filled with Advent journaling supplies? (hold on…*makes a note for Christmas gifts*)
Tamara's digital set included a few sheets of patterned paper, that when printed, result in a nice sized piece of fabric. This bag is a fun way to use those larger digital sheets. I used the acorn/leaf pattern for my bag. On a construction note, I needed to create a wider rectangle than my 8.5 x 11″ fabric piece allowed, so I pieced it with a polka dot fabric that I also used for the lining. (That piece is on the back and you can't see it from the front.) Alternatively, I could have printed additional pieces of patterned fabric to piece together.
I had SEW much fun creating these hoops using printable fabric combined with the digital sets in the Print & Pray Shop. Multiply the fun and sprinkle in the Gratitude Documented line from Illustrated Faith! If you have any questions about creating these for yourself, please leave a comment below! Let's all Print & Pray & SEW! <3, Cristin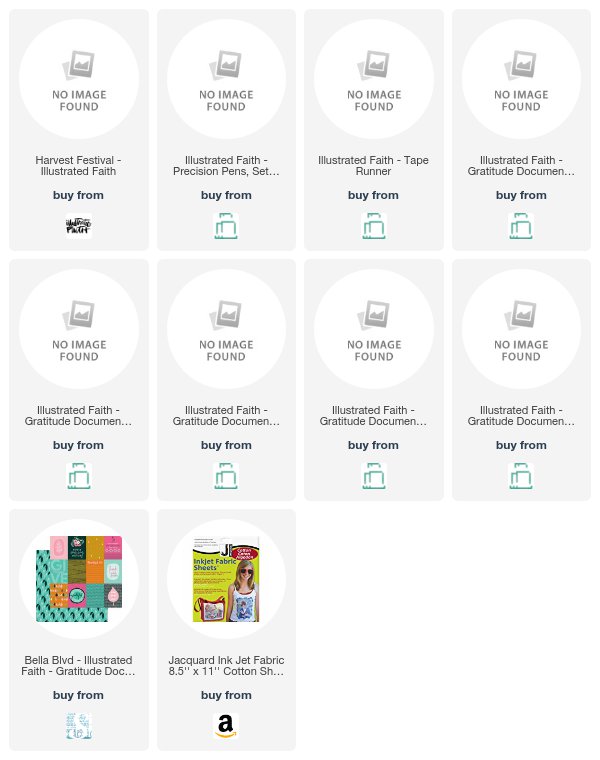 additional supplies: Embroidery Hoops Multi Pack & DMC Embroidery Floss