Greetings Illustrated Faith Family!
I have been walking a journey with the Lord of healing.  Not only physical healing but heart healing.  It's been hard to just let go, put everything on the altar, pray and trust Him.  Some days have been so limited and felt so dark.  I know I am not there yet, but I see light and I am starting to really believe His merciful hand is over me.   I haven't been able to create much; but I am still reading, praying, journaling, and moving in healing worship when I can.   He has met me each and every day right in the middle of my fear through His Word.   It has truly been a time of being still with my eyes on Him — choosing Faith over Fear.
This scripture breathed hope into my heart on dark days.  I love the NIV version of this scripture from Jeremiah 33:6.
I will bring health and healing to it; I will heal my people and will let them enjoy abundant peace and security, declares the Lord.
Let's journal truth my friends.
Gathering beginning supplies – the left over watercolors from creating my newest print and pray shop release, clean water, journaling Bible, and my inspiration: paper from the Illustrated Faith Bella Blvd Faith>Fear collection.
My vision was loose watercolor flowers dancing around His truth.  I started by stroking down a bit of water with my oval brush.  Remember friends, your brush shape will paint the shape for you!
Most of you know my favorite method is painting water first and then dropping in color.  More on that technique here.  I am dropping in my golden color and a bit of the rust color.
Doesn't look like much.  But don't panic!  Remember the gift of watercolors is being free to let them do their thing.  We will layer until these blobs resemble flowers!
A quick dry with my craft heating tool and then I go back in with a round #8 brush and loosely paint flower petal shapes.  Trust me!  Your eye will tell you they are flowers soon!
I added some small dots.  Just an impression of additional flowers, no detail.
Stems using a flat shader brush.  Want to learn more about different brushes?  You can find a post here and here.
Leaves using the same loose techniques.  I started with the teal color and dropped in some of the golden yellow.
Here's a few close ups of the flowers.  You can see they are very loose and FREE!
Once the flowers were in place.  I started to make my letters.  I love to create letters with the beautiful papers in the Illustrated faith sets.  I use my Silhouette or my Sizzix Big Shot die cut machine to cut them out.  Here you see the Sizzix in action.  The die cut I used is listed in supplies.
I have a treasure box of letters that I keep my "left overs" in.  If you following me on Instagram, you have seen lots of pages created with these letters.
I laid out my letters on a scrap piece of cardboard and painted them with my watercolors.
Aren't they just so pretty!
I arranged the letters on my page.
After adhering the letters down I grabbed some additional elements from the Faith > Fear Kit.
I wanted a black element under healing.  And found the perfect sticker from the 12×12 Faith>Fear Fundamentals sticker set that said simply "God".
I grabbed my wordfetti stickers and completed the tab area.
Date stamp.
And underlining the key verses – here you see me underlining. Jeremiah 33:6.
I chose to journal over two pages because the beginning of Jeremiah 32:16 spoke to my heart.  It says, "Jeremiah prays for Understanding" — oh friends God is only a whisper away!  He may not tell you everything but He will walk with you.
And the page is complete.  I love it's simplicity.  I have had to let so many things and details go during this season.  Frankly, I may never be able to go back to juggling it all again — but that's ok — the world doesn't rest on my shoulders, and I am learning to believe the truth that my value isn't in my "do" but in who I belong to.
If you are walking something hard right now, I am lifting you in prayer.  May the Lord be so present in the midst of your journey, may your heart be made whole, may you know He never wastes a struggle or a tear.
If you try watercoloring over pieces in this Faith > Fear set, tag me on Instagram!  I want to see what you create!  IG @designsbyamybruce.
You are SO loved friends.
hugs,
amy bruce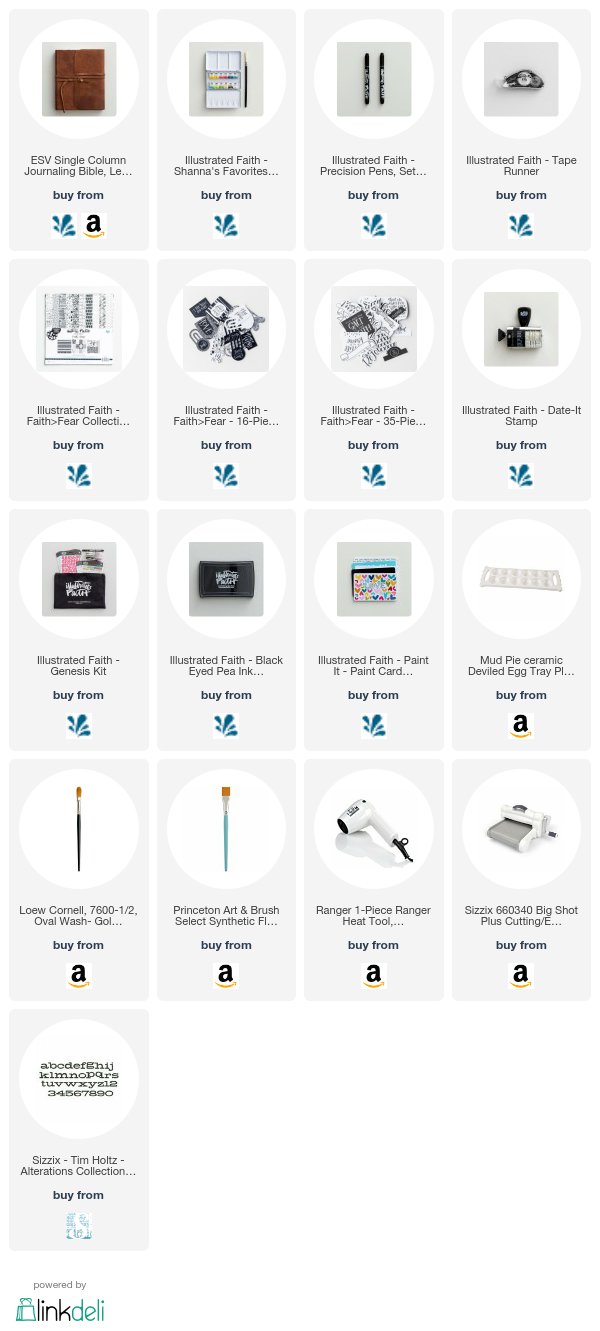 additional supplies: Princeton Neptune #10 Round, Princeton Velvetouch #6 Flat Shader, Daniel Smith Watercolors – various used in mixing