After some unexpected trips to the doctor Wednesday & Thursday, I'm finally here with a follow-up to my 15 Minute Challenge post from Tuesday! I'm ready to share 3 more tips for how to create some quick pages in your Bible when you have little pockets of time throughout the day! I've seen all the pages that everyone in the community has been creating the past week & they're all so amazingly inspiring despite maybe being more simple than usual. It just goes to show– our faith walk has nothing to do with the intricacy of the pages we create! It's all about what we get out of it! So here are 3 more tips for you to squeeze in some minutes in your margins on busy days!
---
#4. Jot down quick notes.  
Keeping a journal or sticky notes on hand in your purse or at your desk can help remind you questions you want to bring to God throughout the day or little snippets from your life you want to pray over. And put that note right on your page! Why not!? It's so cool to look back at your Bible pages & remember that time in your life full of hustle & bustle, but see a little note of faith peeking through!
#5. Keep a kit of basic supplies handy.  
It really helps to not have to go searching around for your go-to items when you only have a few seconds to journal. Keep a little pouch of basic supplies ready to go (maybe even in your work bag?) so that you can just sit down & journal. These supplies might include a favorite journaling pen, some alphas, a sheet of stickers, a few washi samples, & a date stamp.
#6. When in doubt, just write.
Some of my best thoughts & prayers show themselves when I just sit down & purely write in the columns & underline passages. It's true. Shanna always says that all you need to truly Bible Journal is a pen. So just keep it simple & write it down. All the pretty supplies are just extra. What's important is the message!
---
Head over to the Illustrated Faith Facebook group to join in on the challenge! Share your pages in the challenge thread & tell others your own tips & tricks! Each page you share will give you an entry to win the challenge prize until the end of the challenge!
<3 Elaine
P.S. This page was totally inspired by my friend Bridgett Brainard! Check out her Instagram feed. She's such an inspiration!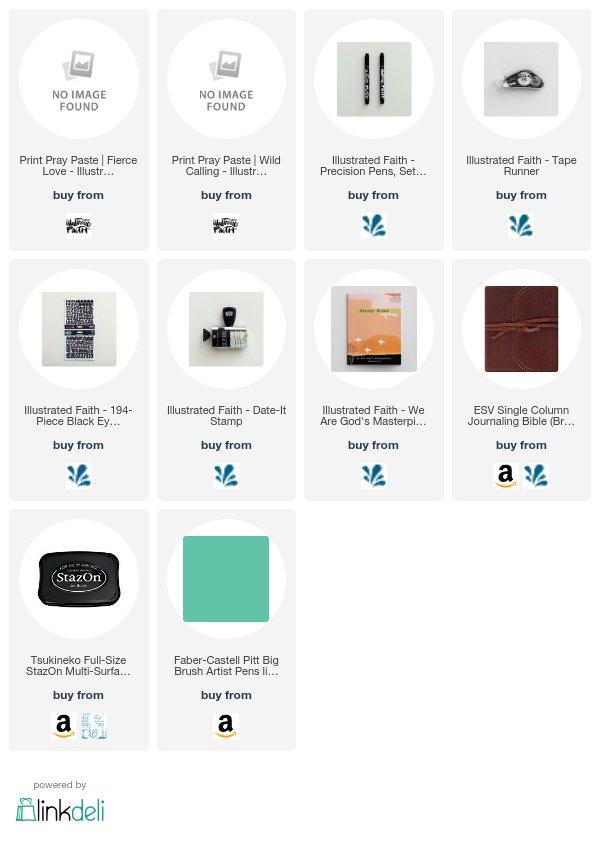 additional supplies: Pebbles Girl Squad washi tape set | Studio Calico icon sticker roll | Studio G Be Brave rubber stamp