Hello friends!!! Are you joining us for 100 Days of Grace and Gratitude? How cute is that stencil?!?!! Before we dive in for the next 100 days, I thought I would share some simple techniques for using your stencil. This is just going to be the basics and then I'll share some more fun techniques in another post that are a little more advanced.
First, let's gather some supplies. I'm doing these techniques in a journal for demonstration purposes and can't wait to do them also in my Bible as we dive in in November. We're going to use spray ink, stamp pads, heavy body acrylic paint, and markers or brush pens. I found a few of my favorite colors that match the book and kit.
SPRAY INK
This is such a fun technique, but let's go over a few things first. You will want to protect the areas outside of the stencil. I'm just using printer paper along the edges of it. You might even consider using washi tape to tape the paper along the edges to keep the paper from curling as it gets wet.
You don't want to spray super close, give it some space. You also want to move across your stencil as you're spraying rather than a direct spray. If you do a direct spray it tends to pool up rather than spread evenly. You will do this a few time until you get the coverage you want.
Fun challenge: instead of washing off the ink after spraying, use it as a stamp and stamp off the ink for a reverse stencil look on another page.
STAMP INK
If you're watched Elaine's Facebook Lives you've seen this technique several times. Using a blending tool full of stamp ink, stamp and swirl/smear ink into the areas you want stenciled.
One of the things I like about the Prima inks is the pointed end of the ink pad. This gives me control to where I'm stamping in ink. This way I kept the acorns green and made the marks around it a navy blue color.
Fun challenge: stamp in some texture with some mark making stamps. Using your finger instead of an acrylic block gives you control to only stamp where you want it to go, especially for smaller areas.
HEAVY BODY ACRYLIC PAINT
This is probably my favorite mixed media technique for stencils and something I do often in my art journals. Using a paint card, palette knife, or even a popsicle stick will work… scrap heavy body paint across the stencil making sure to get paint into the areas you want filled. I do not recommend using thinner paint for this technique as it spreads out more and you will lose the detail of your stencil. The Illustrated Faith paints are perfect for this too.
Fun challenge: mix paint colors and play around with other thicker mediums like modeling paste.
MARKERS/BRUSH PENS
If you watch our Facebook Live videos, you'll see that I actually used this technique in my recent live video for mark making in the margins of my Bible. This one is the easiest and most controlled because you're basically just coloring in the open spaces. This gives me control over what color the acorn tops were, and what other color the acorn bottoms are. This is where we can really play with all the colors of the rainbow. So grab all the markers that match your color palette and have some fun with this one! You'll see below that I just moved around the stencil to complete the acorns that were along the edges. You basically can just fill your page with markings everywhere or acorns everywhere or both.
Fun challenge: use just the mark makings, or just the acorn, or play around with multiple colors… or outline the acorns with your pen. Just have fun!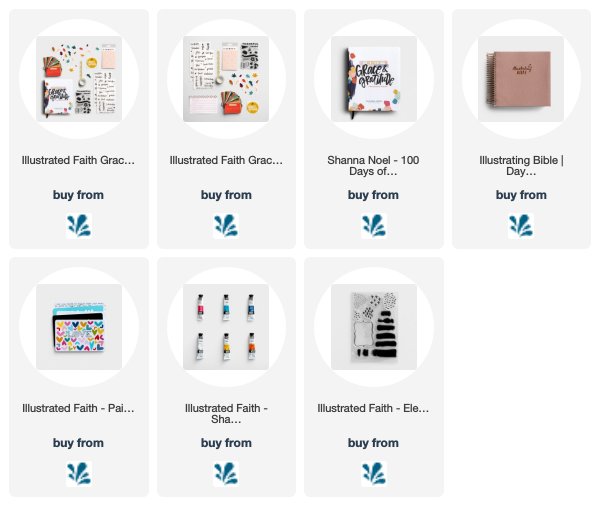 additional supplies: mixed media journal | Heidi Swapp Color Shine | Illustrated Faith Olive ink pad (retired) | Memento Lux Ink | Prima Ink | Liquitex Heavy Body Paint | Faber Castell Pitt Brush Pens | Tim Holtz Blending Tool