Hi friends, Who is just loving this journey?! It is so not what I expected for a joy journey… I've think I've shed more tears of joy than happy happy joy going through this devotional. Once again, my tutorial didn't go as planned and I'll be sharing the process I went through whenever I remembered to take a picture. I suppose that's what we want your experience to be with these devotionals, to just worship and not be concerned with the techniques and outcome. I might have shed a few tears that the tutorial wasn't going as planned but then I gave it to God as he literally lifted my head and reminded me of who I am. So, I pray that I'll speak to someone on this journey… just one person who will let go of perfection, let go of fears and just let God lead your worship.
So, let's start with the background… this is where I always like to grab a paint brush or paint card and some paint… this time I wanted it to be simple because I really wanted to see the flowers of the messy card and the wording on the second messy card that I was planning on layering on top. Dry brushing is lots of fun and super simple… you can find my tutorial HERE for dry brushing.
Next, using a light grey india ink brush marker, I stroked the stamp with ink and then stamped it down over the paint…
Then, have fun adding all the elements onto the page… from washi tape, to messy cards, to tabs… I even added washi tape onto the tab to give it some color.
This is where it didn't go as planned… my stamped image didn't not come out perfect… not sure why since I practiced on a sheet of paper first. But for whatever reason only God knows… probably to remind me to worship instead of worrying about the outcome… it did not stamp cleanly. I took my favorite Illustrated Faith pen and looked at the stamp and tried to draw in the image where it didn't stamp… I also tried to finish off the top of her head and the bottom of the top. It's not perfect and well then I re-read the verses and decided it was perfect.
Lastly, I finished up with some journaling, a date stamp… and then went a little overboard with the mark making stamp LOL… I'm never good with white space on a page ;)
It's not shown in this picture but I did go ahead and color in the letters in the "Bride of Christ" sticker using india ink brush markers. I also added more washi tape to the edge of the page.
This was meant to be a simple and quick Bible journaling entry because I want to get through all the scriptures in this devotional and truly take this joy journey… it ended up being a lot longer than anticipated, but I think if you take these simple steps you can quickly do an entry when maybe you have a chaotic schedule and need something quick.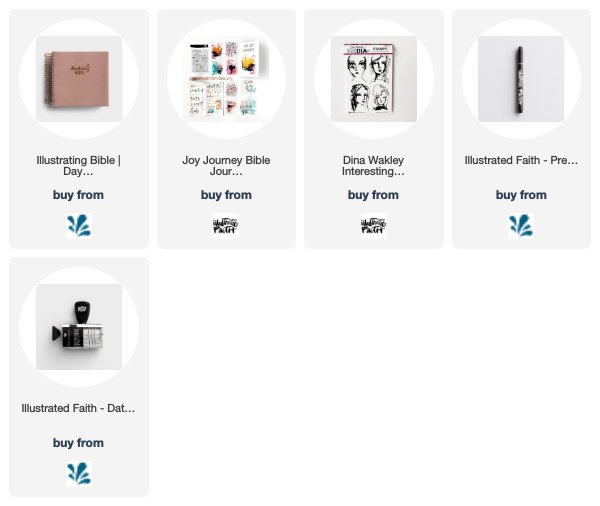 additional supplies: Scotch gel clear glue | Handmade Modern acrylic paint: Sherbet | Dina Wakley Paint Brush | Stazon Ink: Jet Black | Faber Castell Big Brush Markers: Pink Madder Lake 129, Light Flesh 132, Warm Grey III 272