Hello, friends!
Oh, how I wish I could tell you I was writing this post while bundled up in an infinity scarf with hot apple cider and a candle burning somewhere in my home. Unfortunately, it's 90° in the coolest part of the house due to our AC unit going on the Fritz. Even so, with the colors in our next kit, I almost feel like it's autumn!
I was pondering all the details I enjoy this time of year such as crunching leaves under my feet, evening walks with my husband and adventurous six-year-old little girl, and the fun I have adding a few extra layers to my apparel. As I pondered these details of the upcoming season I was reminded of Christ's interest in the layers of our hearts.
You know, the layers of our heart that no one knows about but God? (Proverbs 21:12) 
The layers with scars we'd rather not remember exist and yet can't help but feel.
The layers with sin we've neatly tucked in the corners of our life hoping that no one asks about or challenges us to clean up.
Dear friend, Christ sees. He sees each and every layer.
All the layers we thought we had covered up but we are crying out for Him to heal.
Friend, He is not hindered by the layers. God can and will lovingly and tenderly remove each layer with care if only we will let Him.
It can feel terrifying, empty, and lonely to consider God doing this work in our heart but let's remember that when we surrender those layers of our heart to Him, His love for us will flourish!
God doesn't just rip the layers apart and then walk away, no! He gently draws us back to Him, away from the world, with His promise of grace, forgiveness, and restored life.
Our life won't just be restored to what we previously considered whole, no! He will restore it with interest!! (Joel 2:25-27)
God reveals a promise of what our life could look like if we choose Him over our pain, own agendas, or even over a life of sin. What we thought we have or had is nothing compared to what God will give us.
If you're struggling with hidden heart layers, I want to encourage you with 5 truths in the book of Hosea, about who God is.
Hosea 2:14
He will LOVINGLY and TENDERLY allure you to Him and lead you into a quiet place. Do not fear the wilderness, this is where growth happens!
Hosea 2:15 a. 
He will restore you and give back to you with interest what sin has taken away from you.
Hosea 2:15 b.
He will lead you from a valley of sin to a valley of HOPE
Hosea 2:18
He rescues you from sin that troubles you and gives a promise that it will not ruin you.
Hosea 2:23
He will turn your mourning into rejoicing!
Much love,
Bekah
Let's Paint!
When applying your paint, think about making a U and starting with pink and mustard first on opposite corners. Then take a tiny bit of white paint on your paint card and start blending the two colors so they meet in the middle. Let that dry (use a heat tool if you have one!) and then add your black paint at the top of the U so the colors make a full circle.
Add Texture!
How fun are these vellum and cardstock hearts? I picked out coordinating colors of each and layered them together. You could use adhesive, staples or sew them together as I did below.
Finishing Touches!
To add flow to the page, I created a cluster of hearts as a tab. To carry the black throughout my page, I added a scrappy title and used my typewriter to write down each of the five truths I found in this chapter! I also took the leftover thread and stitched little x's into my journaling and into the hearts!
–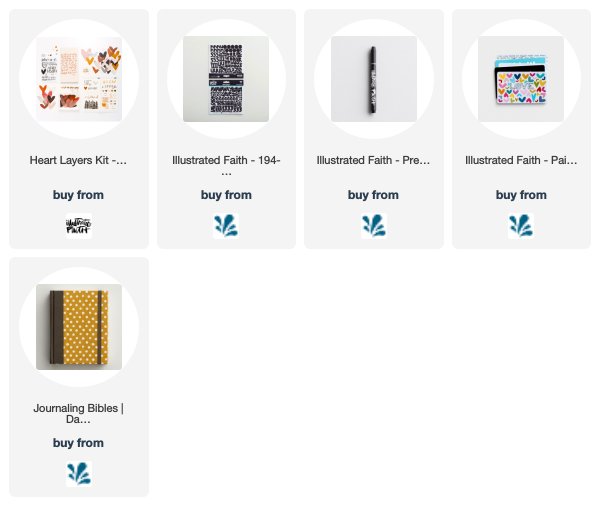 Additional Supplies: Acrylic paint: white, black, yellow ochre, portrait pink | Coordinating thread: white, black, mustard, rose pink