Greetings Beloved Illustrated Faith Family –
What an amazing thing to be known by God.   We are not only known but designed uniquely and gifted specifically by the Lord.  Each one of us has been entrusted with a design and with gifts for the communities around us.
So why do we often feel like we are a circle in a world of squares and triangles?  Like a round peg that doesn't fit into the square hole?
How many times when you were a young teenager did you want to "look" like someone else.  If you have curly hair, you might have always wanted straight hair.  If you were a dancer, you might have yearned to be an athlete.  Maybe you are an artist, but others think you should be an accountant because it's more sensible.
The enemy can use this feeling of "not fitting in" to make us shrink back and hide our gifts.  But that's not God's will (Matthew 25:14-30).  Our gifts are like little bits of Light entrusted to us to sprinkle in the dark places.  The Light we have been given needs to be upon the hill, shared, invested in the Body of Christ (Matthew 5:14-16) because a circle can't do what a square was designed to do!  We need each other!  The world needs our gifts friends!
Jeremiah 1:5 in the Amplified Version says this:
Before I formed you in the womb I knew [and] approved of you [as My chosen instrument], and before you were born I separated and set you apart, consecrating you; [and] I appointed you as a prophet to the nations.
You are known friend.  The shape of your design is approved by the Father and set apart to serve the King.  You have been entrusted with gifts of Light to scatter into the darkness and to share with the Body of Christ.
So if you are a circle, embrace it and shine on!
Let's journal truth.

Gathering Supplies:
Old Toilet Paper Rolls (you could use paper towel rolls too)
Acrylic Paint Brush
Illustrated Faith Bible Journaling Mat
Acrylic Paints
Washi Tape to secure Bible mat
I have more colors than TP rolls.  So my first step was to cut the rolls into pieces.
I dipped my brush into the Payne's Gray Paint and liberally applied it to the edges of the rolls.
I found that I liked the effect of placing the paint side down and then moving it about in a circular motion to make a unique circle impression.
Next Color. Yellow.
Pink.
Blue.
Green.
A little more yellow for balance.
I think I would be happy with a page that has just this on it.
Impatience = craft drying tool.
Time to add some words and details.  I grabbed the free digital download sheets that come with your kit.  I had them printed at Office Max on Avery clear sticker paper.
I am using my fingers to smooth the clear sticker down.  A paint card works great for this but I forgot to have one close by!
Again.  I would be happy here.  But I kept going.  Our gifts are bits of Light Jesus uses in this dark world.  I loved this little banner in the digital set.
I decided to add some more words and started with  "I am".   I used Bella Blvd's puffy alphas and a yellow letter "i" from Illustrated Faith's Whatever is Lovely Collection sticker sheet.
The letter "i" didn't stand out too well so I added a little arrow banner from the digital kit that has a solid hot pink area underneath the letter.
Can't resist enamel hearts.
Which led me to journaling "loved" — we are known AND LOVED friends.  I used all my pink alphas in my typical mixed up style.  Ummmmm SO GOOD.
Tab.
A line of washi tape from the kit.
I could resist ending with the word "wild" and another enamel heart in the soft pink.
Date Stamp.
Underline my scripture.
Oh so good friends.
We are created, fully known, loved, and made to shine with the gifts our Father has woven into our souls.
If you try this fun technique, I want to see it!  Tag me friends!  @designsbyamybruce on Instagram.
You are SO LOVED.
In His Light,
amy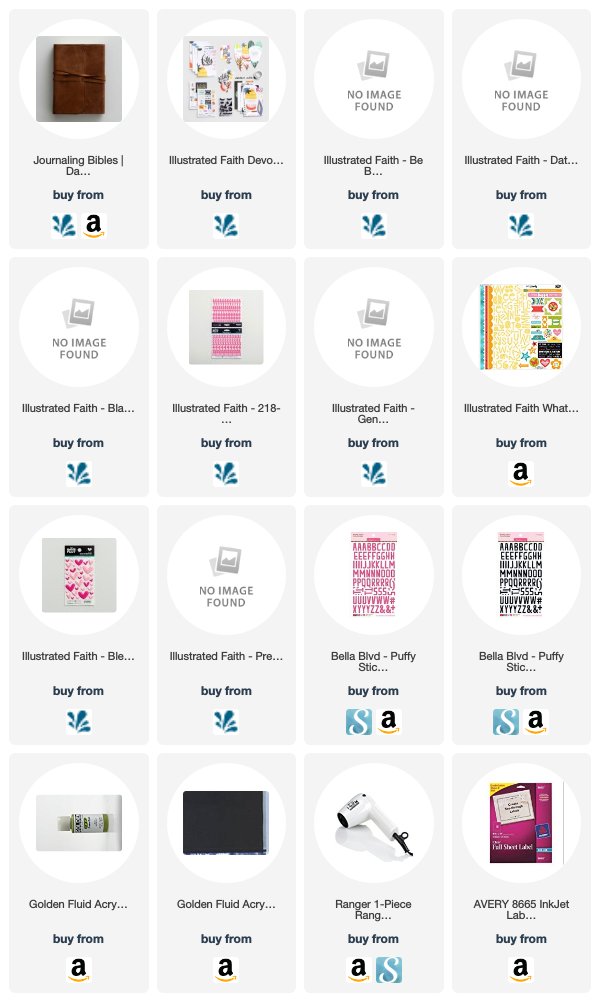 Additional Supplies: Artec Bristle #4 Round, Martha Stewart High Gloss – Amaranth, Hand Made Modern – Satin Carrot, Hand Made Modern – Robin's Egg, Toilet Paper Rolls