Hi lovely friends! It's Cristin here, and I have a beary cute page to share with you today! I love February and Valentines Day. There are so many verses to journal and passages we can focus on pertaining to God's love and His love for us. Today, I'm journaling in 1 John 4, I love this passage:
"Those who are loved by God, let His love continually pour from you to one another, because God is love. Everyone who loves is fathered by God and experiences an intimate knowledge of Him. The one who doesn't love has yet to know God, for God is love. The light of God's love shined within us when He sent His matchless Son into the world so that we might live through Him." 1 John 4:7-9 (The Passion Translation)
I love the visual of love continually pouring out. Love flowing freely to one another. So many people in the bible journaling community pick a focus word for the year, and I did, also. I picked the word "hello" to encourage myself to make an effort to stay connected this year, to reach out, to check-in, to make new friends. When I read the above passage, I knew that my word for the year, while it's a self-improvement sort of goal, is not separate from God. It's also a way to demonstrate God's love. We love, because He first loved us.
I love when God speaks into our lives and we make these connections! For my page today, I used the panda bear from Jessica Robyn's new set in the Print and Pray Shop, Bear Hugs. I added a stamped paintbrush, because I love the thought of spreading God's love creatively. Adding a little love here and there with a paintbrush. This stamped paintbrush is from the Mark Maker stamp set released last month in the Illustrated Faith shop.
The background on this page is mostly acrylic paint. I snapped a few progress photos to show how it all went together. First, I started with two shades of pink paint, dabbed onto the page.
Then, I took a bottle cap and dipped it into grey and also pink paint (separately) to stamp circles onto the page. This was my favorite step. They look like coffee rings because the bottle cap didn't stamp a perfect circle. I think this would be fun on a page with coffee mugs. I covered up the text with a piece of paper while stamping the rings so that I could get a half ring stamps next to the text.
Lastly, I used the cross stamp in the Mark Maker stamp set to complete the background. I love background stamps because I don't have to doodle the background myself and it always looks cute!
To complete the page, I added the cute panda, highlighted the passage, and wrote in my journaling. Thank you for joining me here today, friends! Let me know if you stamp with any unusual tools!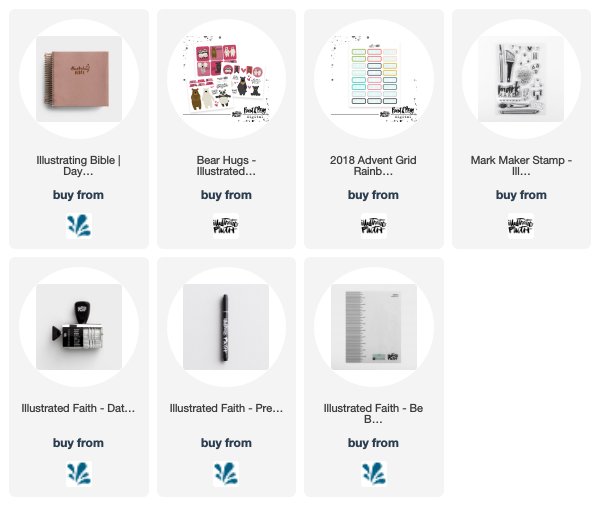 Additional supplies used: Handmade Modern acrylic paint in Cherry Blossom, Apple Barrel Paint in Cameo Pink.