Happy Monday! Today we're tuning in to Jesus Culture's song "Yes and Amen" with Shanna Noel's new Tune In devotional! 2 Corinthians 1:20 says,
"For all the promises of God find their Yes in him. That is why it is through him that we utter our Amen to God for his glory." (ESV)
Some days we might only be able to make a few minutes for Bible journaling and today was one of those days for me. The Tune In series is a great jumping off point providing both inspiration and a soundtrack for your Bible journaling sesh!
I chose to print the one page devo at full size on white card stock and an extra copy, two to a page, on clear sticker paper. I wanted to use the "yes and amen" element in a smaller size on sticker paper for my title. After typing my journaling I grabbed the Storyteller typed alpha stamp, a pink label and the stamp set from the new Word Nerd kit.
I stamped out the phrase "in Christ" and layered that with my journaling card and the Word Nerd stamp in my interleaved Bible. Through Christ God has personally guaranteed all of His promises and we respond with an AMEN, confident in His faithfulness!
I added another Word Nerd stamp under my journaling (they're perfect for any Bible page!), a date stamp and a couple puffy crosses. Since there is so much white space on my page I chose to use a Neocolor crayon to create some blue paint splatters, too. And there you have it! A quick and simple page to reflect on a comforting reality.
What a fun way to begin the week, focused on God's faithfulness to His word <3 The Tune In devotional Yes and Amen is available now in the Print & Pray Shop!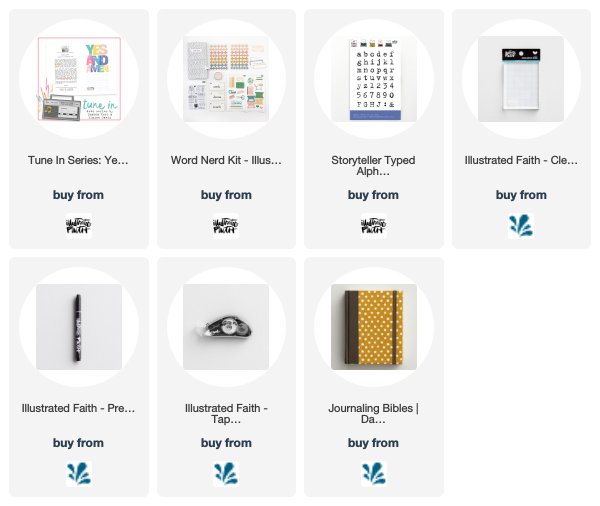 Additional Supplies: Studio Calico Mega Date Stamp | StazOn jet black ink | Neocolor ii in Sky Blue