Happy Monday, friends! Get ready to break out your traveler's notebooks and #allthecolors :) Today I get to share a process video showing how I am using Tamara Arcilla's beautiful Print & Pray set Journal the Rainbow in my traveler's notebook.
I knew I wanted a large "canvas" to create on so I could include ephemera in each rainbow-tastic color. So I chose to make a two page spread in my traveler's notebook. Before gluing any of the printables down I wanted to create a subtle base of rainbow colors. I chose about seven Tombow dual tip brush pens in coordinating colors, grabbed a 5×5 square of an old piece of plastic packaging, a jar of clean water and a mop paintbrush.
I scribbled some color, beginning with pink, on the piece of plastic packaging, dipped my brush in clean water, and swirled the wet brush around in the pink pigment to pick up the color. Then I dropped large pink drops in the top left corner of my spread, along with smaller paint splatters too. Once I was done with the first color, I wiped the plastic packaging off with a baby wipe and continued the process, next with orange, working my way clockwise down the spread until I finished with purple.
I hit that with my heat tool to help speed up the drying process and then began stamping! I added a title in the center with a variety of alpha stickers and homemade wordfetti. Next I glued an assortment of rainbow ephemera onto my stamped and splattered background. I left enough room for additional stamping and journaling.
In her set Tamara includes a legend for each color. In the legend she lists the color, its meaning and provides a few Bible verse references where we can see the meaning of the color in action. I thought that was so fun and a great chance to explore my Bible. I picked a verse for each color and copied it down next to the corresponding color in my spread. Once I finished all my writing I filled in any blank space with additional bits of ephemera. And finally, to fill in any smaller blank spaces, I used the Tombow brush pens to draw tiny art marks. And that's it!
This was such a fun, creative project. If you use Tamara's Journal the Rainbow set be sure to tag it #printprayshop so we can see! There are so many colorful possibilities!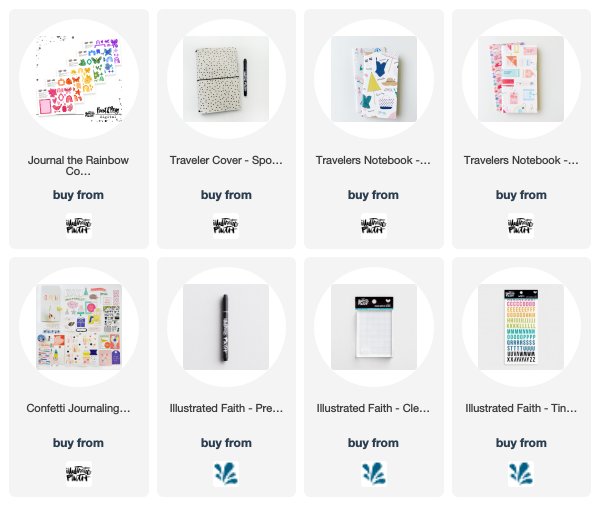 Additional Supplies: StazOn jet black ink. Tombow dual tip brush pens in 817, 755, 946, 055, 173, 407, 493, 665, 636.