Greetings Beloved Illustrated Faith Family –
I am walking a really hard season right now with my beloved, precious father in law.
It's time to start saying goodbye and my whole body feels like it's broken into pieces.   I can't find words or thoughts.  I feel helpless and, sometimes, so alone.  Try as hard as I might to gather "the pieces" together, I just can't.  Or if I can gather them and make sense,  "wham!" there they go again, all over the floor in a scattered mess.
I came home one afternoon and thought, "how in the world can I do this?"  I can't keep any of the pieces in place.  I am a mess.  How can I be what Dad needs?  How can I be what my family needs?  The gentle whisper of the Lord came, and I grabbed my Bible Journal.
I dug in.
I searched.
I listened.
Psalm 139:1-5 and the Holy Spirit spoke gently to me.
I am not alone!  Dad is not alone!

He will hold me.  He will hold Dad.

He knows.  He goes before and behind.
He knows everything Dad needs and He knows everything my family needs.  He will give us words when we need them and peace when we don't.   He will go before and behind us.  In Him, the pieces of our hearts and the piece of time and circumstances will be brought together.  His hand is upon His children.
Psalm 139:1-5 ESV
O Lord, you have searched me and known me!
You know when I sit down and when I rise up;
    you discern my thoughts from afar.
You search out my path and my lying down
    and are acquainted with all my ways.
Even before a word is on my tongue,
    behold, O Lord, you know it altogether.
You hem me in, behind and before,
    and lay your hand upon me.
I take His words and I let my heart spill onto the page in colors — because that's what we creatives do.

Gathering Supplies and Inspiration:
Inspirational 12 x 12 papers – Illustrated Faith All People All Nations
1″ Princeton flat watercolor brush
Watercolors in various blues – I also mixed a pink, but I didn't use it
Illustrated Faith Bible mat secured with 1″ washi tape
I had this vision of what I felt like inside.  Lots of fragments.  I thought of a broken mirror and decided to paint lots of triangle shapes and cover the page.  My first step was to find the outlines of the triangle using the shape of the brush.
Always choose your brush based on the shape you want to paint.  For example, for round shapes, I would choose a round brush.  The brush will essentially paint the shape for you!
I kept adding triangles.
And because inside I feel so scattered, I had no plan!  LOL, usually, I have no plan!  I let the Spirit guide me.
It was like doing a puzzle backwards and with each stroke my heart is soothed.  He's got me.  He's got Dad.  He has a plan.
A quick dry with my craft heating tool.
I wanted to use Illustrated Faith's Hand and Hand 12 x 12 paper and decided to cut a heart to reflect my desire that God will take the scattered pieces and lead my heart through.
I cut out a simple half heart shape out of the paper.
I used "Spirit Lead Me" from the All People All Nations die cut pack.  His Spirit is the Great Counselor.  He is our breath when we feel like we can't breathe on our own.
I used a combination of letters from the Illustrated Faith alphas to spell out "hold my"
Instead of spelling out heart, a nice round enamel heart found its spot.
I added a tab from the same die cut pack and some more hearts.
I read the scriptures on the page starting at Psalm 138.  Even though my intention was to journal Psalm 139:1-5, I underlined all of Psalm 138 too — because — God used every word to bless me with assurance of His provision, His guidance, and grace. 
My job in the midst of trouble is to praise Him.  To lift my hands high and set my whole heart upon Him.  He will hold all the pieces together.  He will hold my heart in the midst of the storm.
I filled in a blank space at the top with another triangle.  He is always speaking to me as I journal.   Even filling in a blank space reminds me He never misses a tear, He never misses one piece of our heart — it's all held by Him.
Ready to finish my page.  Date stamp.
Sticker for the date.
Oh how grateful I am to not be alone.  He hems His children in.  We rest in the safety of His loving arms, hemmed in by love – before and behind – beginning and end.
Bits and pieces become whole with His breath.  Thank you Lord.
He knows.  He knows me.  He knows Dad.  His love will hold us together through the stormy seas and He will walk His faithful servant home safely.
If you try making a collage of watercolor shapes, tag me on Instagram @designsbyamybruce – it encourages my heart to see your pages.
In His Light,
amy bruce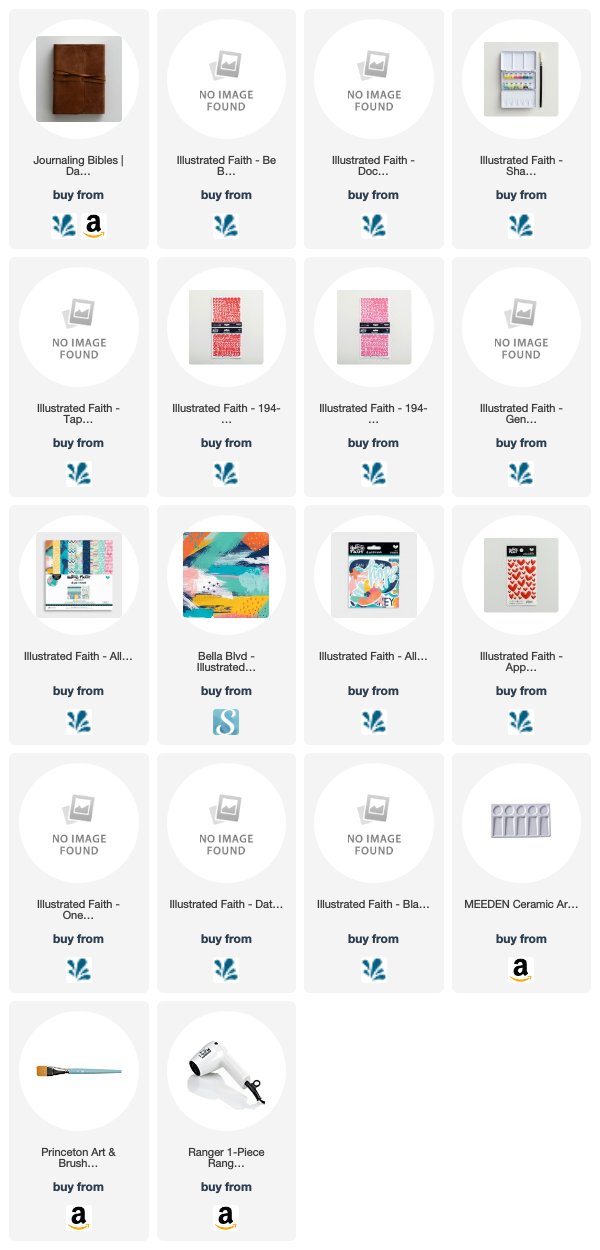 addtional supplies: Daniel Smith Watercolors – various used in mixing