Happy Monday! Do you like to mix Print and Pray Shop collections when you bible journal? I haven't in a while and wanted to give it a try! I challenged myself to use multiple sets that spanned two years from one artist. As I worked on my page I thought of a couple tips that might help you if you're up for the challenge :)
First, I knew I wanted to use Shawna Clingerman's new collection, Sweet Provision. I love the vintage elements she's been including lately! I landed in 1 Chronicles 16 and found my theme-gratefulness to the Lord for His faithfulness and provision. My first tip for mixing printables is to look for sets that have a common theme, sentiments or illustrations.
The colors for this month's Better Together releases are gorgeous (another reason I wanted to use the Sweet Provision set!) After I had pulled out four of Shawna's fall-ish collections (common theme!) I began to look for similar colors…which happens to be my second tip :) I grabbed a green/blue patterned paper from last year's Fall Into Grace set, a black and white (neutrals go with anything!) graphic from Shawna's set Abundance and a pink heart from last year's Gratitude Habit set. In my process video I assembled all of my curated pieces next to each other and they're such a great fit!
Since I am journaling in my interleaved journaling bible, I wanted to treat the blank page like a scrapbook layout. (I loved scrapbooking years ago!) Instead of adding a photo (though I tried, lol) I layered a 3×4 journaling card with white vellum and patterned paper onto my painted background. Then I took the little bits from Shawna's sets and layered them around my block of journaling. I added a large piece of ephemera, that cute wheelbarrow, and stamped out my title. I also snuck in the new Gratitude Documented stamp set and washi tape (there's no need to wait until November).
So as we're gearing up for Gratitude Documented I hope my page inspires you to see which Print & Pray sets you can mix and match! Turns out, it's quite a fun challenge!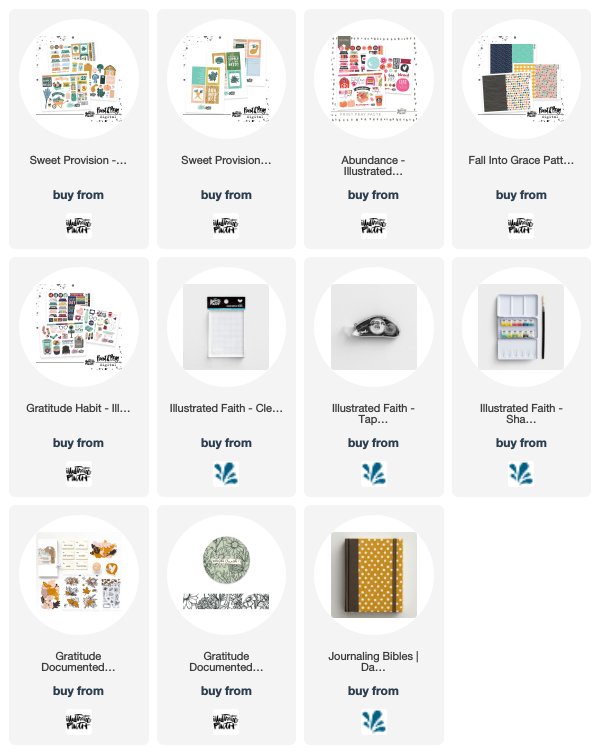 additional supplies: ESV Interleaved Journaling Bible, Target acrylic paint in Sherbet and Coral | StazOn jet black ink | Gratitude Documented stamp set | Freckled Fawn Lili alphabet stamps