Hi there friends! I have a fun project to share with you today. It's so much fun to use the Print and Pray Shop supplies both inside and outside of our bibles. I love, love, love bible journaling…AND I love crafty projects! So, today I'm excited to show you lovely readers my latest crafty project – a mini book suitable for little photos, verses, favorite song lyrics, or really anything!
For this project, I used Shawna Clingerman's newest set, Mixed Feelings. I included the cards, papers and the ephemera to make the book. All of these elements together provided more than enough coordinating pieces to assemble the whole mini album. The only "extra" pieces I added involved a few strips of striped washi tape, felt bow clips, and beaded paper clips.
The structure for this mini book uses scrapbooking page protectors, however, it's not entirely necessary to use the plastic. A paper book would work just as well! I like to play with page protectors, though, so I used them here. I picked up two packages at my local hobby store for just a few dollars each (they happened to be half off when I bought mine!).
Any size will work, though, since they need to be trimmed them down to make mini page inserts. In my last blog post, I used my sewing machine to stitch through page protectors to make puffy embellishments, and I almost used my sewing machine to stitch the edges of the page protectors closed. However, I decided to use a fusing heat tool designed to fuse together page protectors. I also purchased protectors that were designed to hold 2.5″ x 3.5″ cards and cut those apart. Just an FYI: reduce your printing size for the cards if you use the card protectors.
I assembled the mini book by cutting out pieces of the coordinating patterned papers, a few cards, and lots of matching ephemera. Each page emerged with a matching tab and a die cut – and a bow or beaded paper clip! I love lots of fun dangly things here and there. They're like adding fancy earrings to your outfit! Some of the die cuts I adhered to the paper inside the page protector, others I attached right on top of the plastic. I also made sure my tabs were double-sided, so there were no "blank" tab backs showing. Shawna's sets often include many tabs and I love this!
Lastly, I stapled the entire book right in the middle to keep it all together. On the outside spine, I covered the staples with a band of washi tape running the entire width of the spine. This project was SO FUN to create! Thanks for stopping by today!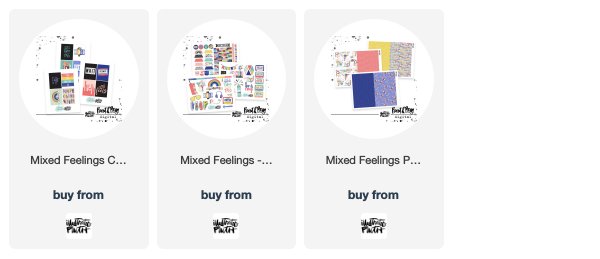 additional supplies: Fuse tool