Hi Bible Journaling friends! It's Cristin here, and I'm excited to be back on the blog today. It's my first post in 2019, and I wanted to talk a little bit about faith and goals. I've noticed that many in our online community have started bible reading plans this month. I love that! I started one, too!
The plan I started has something new that I've never done before. Before digging into the bible passage, the author requests that we meditate for a few minutes on one of the attributes of God. And that's when I found myself meditating on Jesus, the source of our peace. I thought of Jesus calming the big storm with just His words, how He brings about healing,  and how He is our rest.
And that's when it hit me. Perhaps the Holy Spirit gave me a little nudge. Friends, I know Jesus is my peace. But have you ever been up all night with a brain that just won't quit? Maybe something happened at work, and you brought it home with you. Maybe the brain is replaying parts of the day over and over, imagining all sorts of possible offenses that either you did or were done to you. The storm is right there, inside your head, a like a snow globe in a perpetual blizzard.
It felt so obvious that I can ask Jesus for help with this storm. Friends, if you are realizing this too, just know that even the disciples had trouble with this. After all, they had Jesus right there on the boat with them and they still panicked (Mark 4).
Today, I selected Colossians 3:2 to journal today's verse. "Set your minds on things above, not on earthly things." Colossians 3:2 CSB. This was my verse of the year last year, but it's so good and what better way to start the year than to realize that all these things that I try to do for myself – like manufacturing my own peace – I can turn my heart to Jesus for His REAL rest. Amen to that!
For this page, I'm using new digital products by Shanna Noel, available in the Print & Pray Shop. This set has my all-time favorite printable product – collage paper! Collage sheets have paint swipes and doodles and splotches that look completely realistic when printed on clear sticker paper. I love to add paint to my bible page before I layer the printables on top, so that the whole page has a continuity to it. It's so easy, and I'll show a few process photos to give an idea of how VERY LITTLE work it takes to get an amazing turn out!
First, I grab a few acrylic colors that match the printable set. It doesn't matter where they come from or what brand. Today I'm using Goldenrod and Sherbet by HandMade Modern (available at Target) and Blue Bonnet by Apple Barrel (available at Walmart). I like to lay the printable on top of the page first so I can figure out where to put the paint. I like to swipe paint in between and around the digital paint, so that the digital paint doesn't overlap *too* much onto the actual printed page. Mostly just to keep it from looking "muddy."  I keep laying the printable on top to eyeball the placement (picture below).
I only added paint in a few places, mostly on the sides of the margin, and edges of the page. A few swipes of paint and it's done! Then I carefully add the large sticker portion. I go slowly to keep from wrinkling the sticker. I find this inkjet sticker paper isn't very forgiving if I try to peel it off (rips the page).
Once it's on there I smoosh it down real good so the sticker looks transparent. I'm always completely amazed that the paint and the sticker both blend together so well! Doesn't it look so natural? I think the trick is to select paint colors that complement the set as closely as possible. On this page, some of the paint was a little bright, so I dipped my paintbrush very lightly in white paint and swiped that on top of the color marks. You can see some of the white on top of the pink swatches on the bottom of the page, as well as the purple ones. If the paint is still wet, it blends nicely together. And that's all! After this, I add more embellishments, journaling and a date stamp!
Thank you for joining me today, friends! I hope your 2019 is full of more time with Jesus in His word!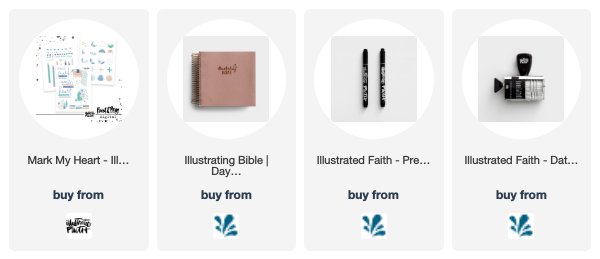 additional supplies: Sherbet and Goldenrod by HandMade Modern acrylic paint | Blue Bonnet 21485E Apple Barrel acrylic paint | Avery 8665 inkjet sticker paper