Think back on the past 24 hours of your life. If that was the only day someone had to use as a reference for your character, what would they take away? We all have our aspirational ideas of what we want people to take away from our interactions, but let's be honest. For realsies. In my past 24 hours, I think someone would draw these conclusions: I'm a little needy to my husband. I'm constantly seeking inspiration no matter where I am, & I like peanut butter a little too much. While those things are all true, no where in that equation is the REAL message I want to convey to people each day. I want others to believe in themselves. I want others to know that they are loved.
In Matthew Chapter 5, there's a portion of scripture that I come back to again & again. It's a pretty well-known one too:
"You are the light of the world. A city set on a hill cannot be hidden. Nor do people light a lamp and put it under a basket, but on a stand, and it gives light to all in the house. In the same way, let your light shine before others, so that they may see your good works and give glory to your Father who is in heaven." (Matthew 5:14-16)
This scripture literally beckons us to shine His light! Let's shout the gospel, let others know how loved they are, & bring all the glory back to God! Let's be a better example of love every single day. How we spend our time is how we spend our lives! Even when a day is more mundane & average, it's our responsibility as Christians to make an effort to get this message out however we can.
On this page, I had some journaling & personal convictions that I didn't really want to be public. So I used some printables from the Bible Nerd Club June 2018 set to create a little pocket. This is a super easy technique to use when you want your personal journaling to remain a little more hidden. I layered 2 printable pieces over one another & used a sewing machine to stitch 3 sides of it. Then I was able to slide a third printable tag into it to hide my prayer. You can also accomplish this technique by putting adhesive on 3 sides to create the pocket or hand stitch it.
I hope you click away from this post ready to make an effort to spread love with each 24 hours that comes. There is always room to spread more love. We can do it together.
<3 Elaine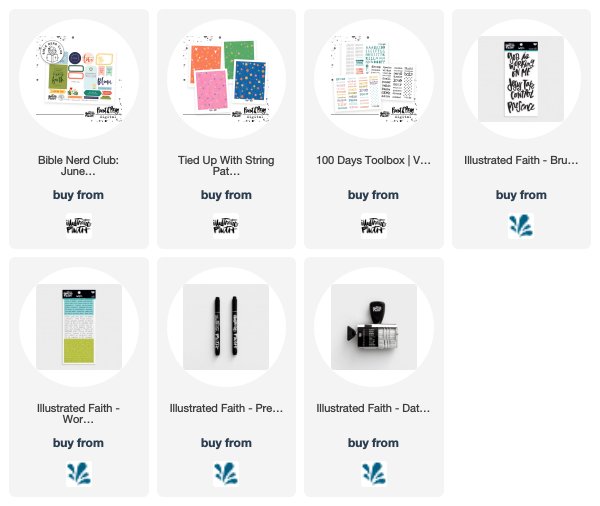 additional supplies: Bella Blvd Puffy Heart stickers in Ice Mix | Bella Blvd Bug Explorer ephemera pack | Bella Blvd Arrows stickers in Pickle Juice | Tonic Studios Nuvo Crystal Drops in Dandelion Yellow | Tim Holtz Distress Oxide ink pad in Fossilized Amber | Tim Holtz mini blender tool | Staz-On ink pad in Jet Black | Heidi Swapp polka dot stencil | Paper Studio 2″ scallop circle punch | MAMBI Pocket Pages sticker book | thread