Hi friends, I'm so happy to be here, with you, the day before Thanksgiving! The Illustrated Faith Print and Pray Shop has an abundance of cheery Christmas products to dress up your Advent journaling. Be sure to check in the shop today, Friday, and Monday to see all the listings!
For this post, I'm using Tamara's newest set, God of Wonder, and it's new in the shop today! Furthermore, this set has tons of wonderful options. I chose a floral piece, an ornament, and one of her text boxes for this page.
When I crafted this page in my crafty space, I stopped for a moment to breathe. In typical Type 1 Enneagram fashion, I've taken things to the next level holiday-wise. Not only are there are 7 Christmas trees up, but also it is so jolly in this house that Santa's elves could move right in. The DVR is starting to wheeze under all the Christmas movies I've made it record, plus, I made it feel bad telling it that there are other, fancier models on the market that let you record 6 things at a time and not 2 like the underachiever that it is. It's all a lot, and I feel behind and though it's not even Thanksgiving.
What good is all this merriment without taking time to worship our King? I love this passage in Psalm 40:5 (I'm quoting the NLT) that Tamara highlights in her artwork.
O Lord my God, you have performed many wonders for us.
Your plans for us are too numerous to list.
You have no equal.
If I tried to recite all your wonderful deeds,
I would never come to the end of them.
What a beautiful reminder of Who we serve. Friends, let's take time this next month, to worship the Lord, the true reason for the season. There is no end to His wonderful deeds!
Before I go, I thought that I would add a little behind the scenes peek at this page, underneath all the die cuts. Here's a glimpse of all the paint underneath. I swatched 3 different paint colors, and just smooshed it around the page. The nice thing about acrylic paint is that it doesn't bleed through the page at all. I added more of my favorite color on top so the red didn't overpower everything, then I kept blending with a paintbrush outwards.
Thank you for joining me here today! Be sure to check out the new releases, and don't forget to tag your posts on Instagram. So, use the tag #printprayshop so we can all see what we are creating.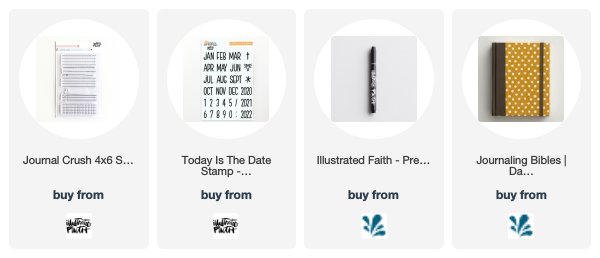 Additional Supplies: Pebeo Studio Acrylics #356 Violet Bleu Iridescent, 371 Rose Fluorescent, and 354 Rouge Bleu Iridescent | Faber Castell PITT artist pen 129 Pink Madder Lake | Tab Punch