Hi friends! It's so great to be back and sharing here with our new kit! It seems like forever and I hope you had a wonderful holiday celebrating the birth of Christ and the fresh new year!
Who like me spends lots of time on Instagram looking through the #illustratedfaith and #biblejournaling hashtags? I find so much inspiration! I love to save that inspiration for future reference or when I'm stumped staring at a blank page. I thought it would be fun to share how I use inspiration from my friends and then make them my own. I like to take little bits here and there for several entries rather than copy one single entry. This entry I'm taking inspiration from two of our friends here, Shanna and Elaine. They both have two very distinct and different styles and it was fun to combine them in this Bible entry.
Shanna
Shanna is the queen of mark making which you find everywhere in this devotional. The devotional made it easy to start there. I loved the painted strokes and scallop in the first devotional… so I grabbed those colors and put them in my margin.
Shanna likes to use neocolors and big brushes too in her mark making so I used them to match the colors better and to give it a little bit more texture. Normally, she uses them for the mark making, but using them on the paint is a way of making it your own.
Elaine
Elaine is the queen of layering textures… especially paper. But, she doesn't just layer papers, she always adds another element to the page… my fave is wads of thread. There are so many die cuts in this kit which makes for great layering and the thread is just a fun extra texture to make the hearts stand out from the tag.
Shanna (again)
We can't have an entry inspired by Shanna without adding in those marks, right? The stamp set makes it so easy to add marks around the page. If you ever really look at her page you're always see a flow with her mark making. She uses design techniques to make your eyes follow around the page. I followed the rule of thirds and kept to the three clusters on the page… margin, tag cluster, and tab cluster. I also used different colors for each of the different mark making stamps.
Lastly, I added journaling and a date stamp, two things she always adds to her entries and probably the most important thing we do when we are Bible journaling.
Where do you find your inspiration? Have you ever combined inspiration for two or more of your friends? How do you make it your own? I can't wait to see what you're doing with this kit and the marks God is leaving on your heart.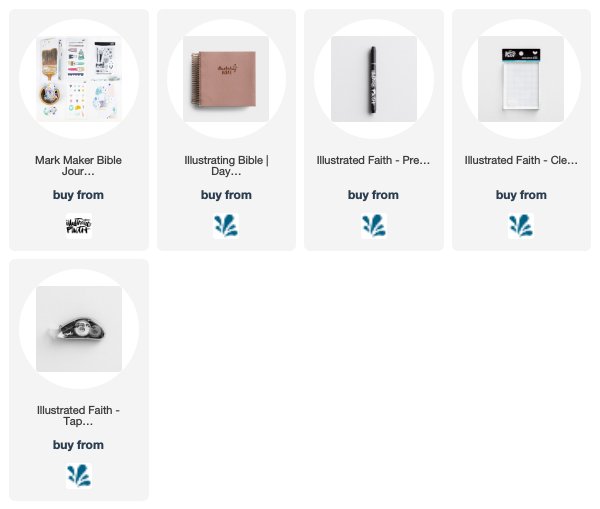 additional supplies: Faber Castell Big Brush Markers: Light Flesh 132, Green Gold 268, Dark Indigo 157, and Warm Grey III 272 | Neocolor II Turquoise Green | Scotch Clear Glue | Handmade Modern Acrylic Paint Sherbet, Goldenrod and Robin's Egg | Stazon Ink Jet Black | sewing thread