The new kit is here and we're so excited to enter the joy journey with Ali Brown!!! Her mixed media art journals just speak to my heart and I'm so excited to hear from her on this joy journey we'll be taking this month. I had this plan to do a stamping tutorial and show different ways to use the inks, but then once I really started worshiping, I forgot to pause to take pictures and well I was just so in to what I was doing and worshiping that the page didn't even turn out the way I had envisioned and I love it even more, lol. So, I do have some stamping and ink pointers and I will share as much of my process as possible but this isn't the tutorial I thought I was going to be sharing because God had all my attention at the time… which is a good thing and I hope the same thing happens for you as you're going through this devotional.
First, I gathered all my supplies… I used the inks from this month's Ink Crush and also grabbed a light gray ink as well as my favorite StazOn ink. There is a reason for the gray ink and the StazOn and I'll share them as we go along.
The gray ink is basically because I wanted a light color to guide where I was going to paint and for additional painting. So, I started with stamping the big floral stamp in three areas around the page as my base for where I am going to be doing my worship. Don't worry about being perfect with this stamp especially since it's just a guide. I just lightly tapped the ink over the stamp and then stamp it onto the page. You can see in the bottom of the image that I didn't worry about getting a perfect image and you can't see the full image of the flower…
Then I grabbed my paints, paint brushes and jar of water. I wanted a more watery effect than full acrylic paint and I just kinda swirled the paint around in different colors using light pink, a darker pink and a peachy orange color… I also used yellow for the centers of the flowers. Don't be afraid to go outside the lines and be messy… this is the fun part of mixed media!!! So, this is where I actually went off grid and didn't go as planned. I was going to smear the pink and orangey yellow ink pads in the same way I did with the paint… but the mixed media artist in me went straight to the paints. Plus, is it really a mixed media tutorial if I'm using the same kind of media? HAHAHA!!! Have some fun with this part using any kind of media… paint, colored pencils, crayons, ink, etc…
Next, I used some of the ink and some of the additional filler stamps to fill in some of the leaves. Again, it's best to tap the ink on the stamp rather than tapping the stamp into the ink pad. You have more control over how much ink you use and that you've inked up the whole stamp.
Then, using another color I stamped the big floral stamp again getting as close to alignment as I could to the initial gray background stamping.
Yep, I have a couple spots that smeared a little… but I'm totally ok with that because to me it's about the worship time with God and not perfection!!! Plus, you'll see that I'll be covering it up later ;)
OK FRIENDS… this is where I totally forgot to take pictures because I was just having way too much fun. So, insert… this is where I layered several of the messy cards on top of the flowers. I USED FOUR OF THEM!!! Don't be afraid to cut some of them to fit the way you want them to. I used Scotch clear gel glue to adhere them. I used 3 of the abstract art ones and then layered the face messy card on top… you'll see them in later photos. Also, I think this means I'm gonna have to get the digital ephemera kit because obviously I'm going through these messy cards super fast!
After adhering the messy cards, I wanted to show another way to use the inks and that's with the stencil. I just tapped the ink pad over the number I wanted… and then once again, I forgot to take pictures, but I also outlined the one with my Illustrated Faith precision pen.
Lastly, I did some more stamping with some of the mark making stamps… here's where it's important to use StazOn ink rather than any of the other ink types. StazOn in dries quickly and permanently. It's the only thing I would use over the messy cards to prevent smearing. Also, another pointer with stamping on the messy cards… just lightly kiss your stamp down and quickly pull up… It's slick and will slide around otherwise.
So, that was my process… I'm sorry it's not more of a tutorial, but I hope you have fun just playing with this kit and your inks and worshiping.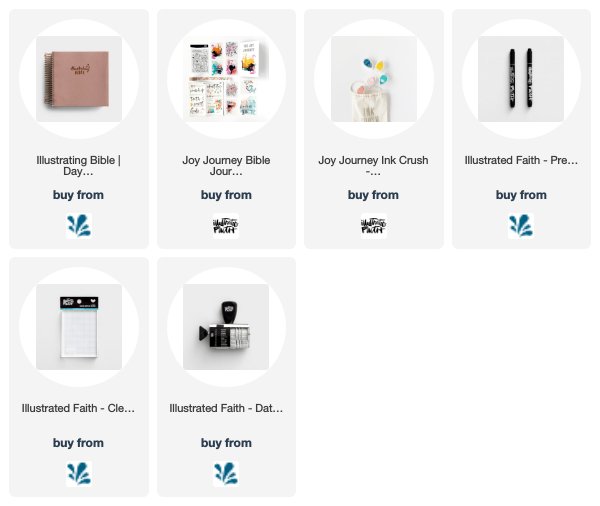 additional supplies: StazOn Jet Black Ink Pad | Scotch clear gel glue | HandMade Modern acrylic paints | Tim Holtz scissors