About a week ago I got a bee in my bonnet to update my phone cloud storage. My phone started sending me scary messages like "Warning! Storage low!" Like a competent adult, I decided to handle it by ignoring it until it went away. My phone messages got even angrier, "Storage full!" it said. "You're not the boss of me!" I thought, as I took more pictures, like a boss.
The messages never went away, and then a little red mark appeared next to the general settings. So I opened it and saw that indeed, the storage was full. Ugh. It only took me eleventy million years to figure out how to log into my cloud storage and run a backup, and then pay for more space. And since my adulting responsibilities were going so well, I backed up all the photos in my computer. It took all night because syncing all the things takes work that I had dutifully ignored for years.
Don't be like me. It's boggling that I didn't lose all my pictures between my phone dropping tendencies and the fact that I think a family of squirrels is in charge of my neighborhood power grid. It's on, it's off, it's on again, oops there it goes! And so on. But then, all of this data managing brought in front of my face the past few years (hundreds) of pictures. Having a phone camera makes it so easy to capture every little thing, and I have been taking pictures of everything.
I'll tell you something personal and that is that the last few years have been a hard time for me. The Lord has never left me, though. Because when I looked at picture after picture, I saw evidence of that. His care. His providence. His grace. His generosity. And most of all His love.
I'm journaling in Psalm 111. I wish I could underline and add exclamation points to every verse. "He causes us to remember his wonderful works. How gracious and merciful is our Lord!" (verse 4, NLT) Yes, Lord! Remind me of your goodness! "How amazing are the deeds of the Lord! All who delight in him should ponder them." (verse 2) Yes, I can see them! And how much does He love us? "He has paid a full ransom for his people. He has guaranteed his covenant with them forever." (verse 9) How amazing!
After being reminded of time after time of the good things He has done, I feel different. Things may still be hard, but I'm not alone. I stamped "ticket to thrive" on one of the printables because that's how I feel. I have a new hope.
For this page, I knew I wanted to stamp my title. I love using clear sticker sheets to print my Print and Pray elements, and it also behaves well when you stamp on it. So, I decided to try stamping my title on the sticker sheets so I could DIY some alpha stickers. It worked so well that I'll show you what I did! The benefits include: no page bleed through from stamping, and you can stamp on a flat surface multiple times until you get a clean image to transfer. The sticker paper is slippery, so your stamps may slide a bit, but it's manageable.
First, I used pigment ink to stamp the title. I'm using Memento Luxe by Tsukineko in Bahama Blue. I stamped each of the Illustrated Faith Homespun Alphas individually, one letter at a time. This is a great way to use up scrap pieces of sticker sheets. Sometimes when I'm printing something super important and I'm out of time, my printer will decide to print half a sheet and then call it quits. That's always super fun. But now I have a use for it!
After stamping, I used my heat gun sparingly to set the ink (trying not to melt the plastic sticker sheet). When dry, the ink did not smear or transfer. I've been touching the letters since then and none of the ink has rubbed off onto my hands. I cut out the letters and then stuck them onto my page just like stickers. I did add a shadow effect with a black permanent marker on one side of the letters so they would stand out. And that's it! Thanks so much for joining me here today, friends!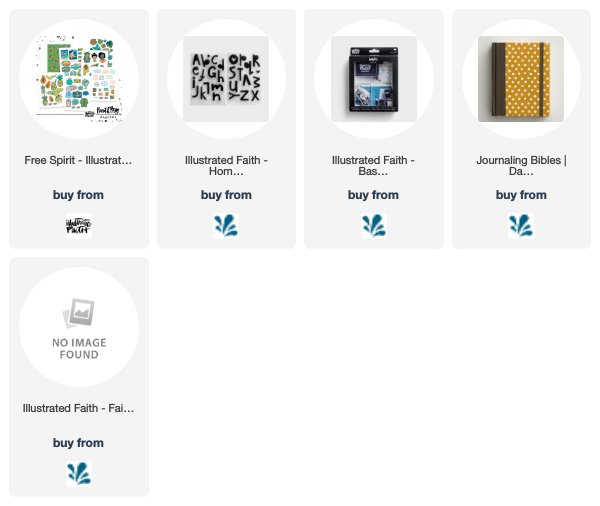 additional supplies: Avery Clear Printable Sheets 8665