Gratitude Documented is heeeeere! Yay! Taking time to documenting our thankfulness one day at a time is such a fun/beneficial/worship-full practice. (Is that a word? It is now!) In fact, when we take the time to focus on the good we can carry that with us in to our next season and remember God's love, goodness and provision in our lives.
Today I am sharing a process video in my interleaved journaling Bible featuring day four's prompt, self-control. Instead of making a page in Luke 22, I opted to journal in 2 Timothy 1. Of course, if you find you don't have room next to a particular prompt's reference, by all means switch things up. We won't tell :)
First up in my process is journaling in my pocket TN. When I start each day I look to the prompt and read the coordinating scripture passage. Then I write a response and, if I make a Bible page, I'll let that journaling inspire it.
It just so happens that I had a recent conversation where I contributed much less than I normally would have. Later that night it occurred to me that was the case and I immediately attributed it to the Spirit's transforming work. I am so grateful for His faithfulness to work in our lives!
Once I had my idea in mind I grabbed the Gratitude Documented digital florals (printed on clear sticker paper), a pink label from the Word Nerd kit, a Maggie Holmes tag and the fall-fetti paper pieces. I layered those over journaling lines I added with a stencil and Distress Ink. Elaine's new Quinny alpha stamp is adorable and I had to include it as part of my title with these pink puffy alpha stickers. After adding stamps from the Gratitude Documented kit I included a date stamp, a tab and finished off the page with black watercolor splatters.
We would love to have you join us for Gratitude Documented! It's not too late to start. You can find the prompts here and connect with this beautiful community by following along #if_gratitudedocumented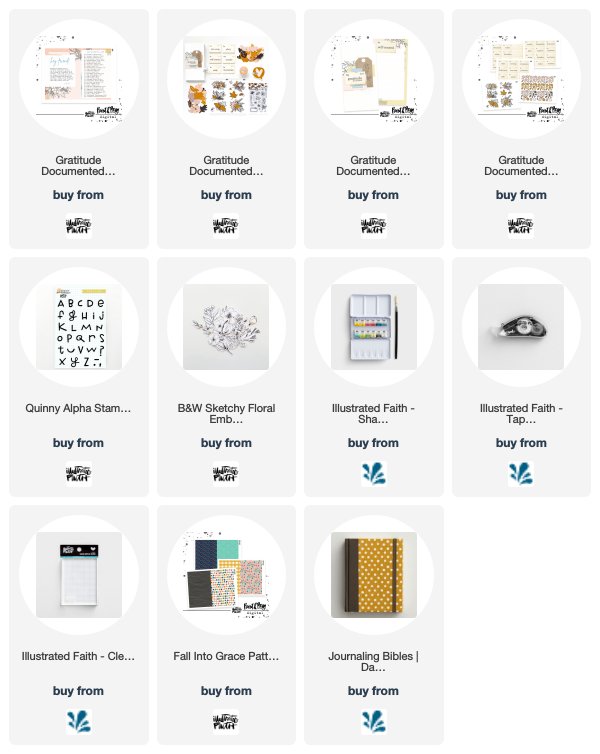 additional supplies: StazOn jet black ink, Distress Oxide Ink in Fossilized Amber | Mini Distress Ink Blending Tool | Echo Park Good Vibes stripe stencil | Pinkfresh Studio Office Hours puffy stickers | WRMK tab punch | Avery 8665 clear label paper