Greetings Beloved Illustrated Faith Family!
I just LOVE the new Illustrated Faith Devotional Kit, This is Love.  I love the colors, I love the Bible Verses, I love the message.
All week before Valentine's Day, I kept thinking how we get love wrong so many times and I started wondering why.  Why is it so hard to receive love?  Why is it so hard to give real, unconditional love?  I don't have the answers.   But I know who does — Jesus.    So maybe our best hope is to continue to draw near to Him.  To daily read His love letter to us.  To pray and to learn to receive the love He extends to us and to do our best to let the love we receive flow out of us into others.
I love the devotional card that highlights John 3:16
For God so loved the world, that he gave his only Son, that whoever believes in him should not perish but have eternal life
I decided to start there.
Let's journal truth.

Inspirational Supplies
ESV Journaling Bible
This is Love Illustrated Faith Journaling Kit
Assorted Paints and Stencils
I started by adding paint to my acrylic palette.  I am choosing colors that are close on the color wheel and match the devotional kit.
I pulled a few stencils from my box and selected one to use.  I have tons and tons of stencils because I use them all the time in my mixed media art.  I wanted to show you a variety because I can't give you a link to any of them really.  I know — so sad.  My stencils are all very old.  There is a link to similar stencil below.
It is a good idea to secure the stencil to your page.  You don't want it to shift while you are working.
I love this brush.  It's coarse and stiff.  Perfect for stenciling.  Some people use "pounce brushes" or even sponges and wipes (maybe a future post!).   You just want a tool that will allow you to put your medium down with a dry, stiff texture.
I pick up onto my brush the most transparent paint, Golden's Fluid Green Gold, and start to apply it in different areas of the stencil.  I don't have a particular pattern in mind but I am distributing color in a balanced manner.
Moving on to additional colors.  I like to often have two colors on my brush.
Once the colors get to mixed or my brush gets to saturated with pigment, I just use a wipe to clean the brush.  I don't use water because it will take away the "dry" aspect of the technique.
Keep working until you have covered all of the spaces of the stencil and apply your paint so it is somewhat transparent.
Oh my, LOVE.
Carefully, remove the washi tape.  The tape in this kit is perfect because it doesn't have a lot of adhesive power.  If your tape resists coming off your page, heat it up first with your craft heat tool, then try again.
Let the paint dry completely or use a craft tool to speed up the process.
Isn't it beautiful?
Ok.  Time for paper pieces!  I start by dumping out the pieces from the kit and the die cuts from the Illustrated Faith You are Loved Collection and playing with the layout.
So many choices!  Adding "are" with alphas.
Which one to choose – loved script or loved block print?
Using a paint card to underline John 3:16
Washi taping the inspiration journaling card onto the opposite page.
Needing a tab.  The flower die cut is perfect with a little washi underneath.
I think some enamel hearts are in order.
More hearts.
Date stamp.
Numbers.
And a puffy cross because it is ultimate symbol of Jesus' love for us.
What a beautiful mess.  Thank you Jesus.
Oh my friends!  YOU are LOVED.
I want to see your stencil pages friends!  Tag me on Instagram @designsbyamybruce.
In His Light and with LOTS of hugs,
amy bruce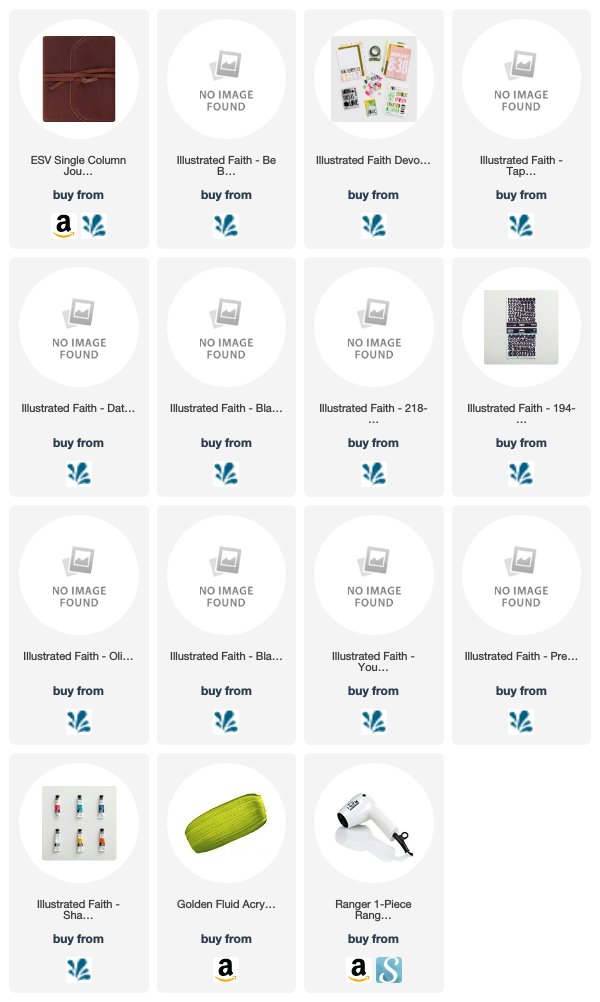 additional supplies: Martha Stewart Satin – Seaweed, Target Hand Made Modern – Shimmer Aqua, Artists Loft #10 Bright Firenze Brush, similar stencil – Artist Cellar Garden Gate Stencil