I'm not sure what the weather is like where you are right now…sunny and warm; cool, fall weather with changing leaves; cold and snowy already. But no matter what the weather is like, we are now in the midst of the holiday season. Every store is decked out for Christmas, while a few are still hanging tight to fall as we come up to Thanksgiving. The seasons change, and so do we. And as the seasons change, the holidays come spinning towards us.
The holidays are fun and shiny and sparkly. There's family and gathering and friends. Food and fun. Gifts to be given and received. But smack in the middle of that, there can also be a lot of hurt, pain, and loss. I don't think we have to gloss over that or pretend those emotions and feelings aren't there. Jesus understands our pain and loss and hurt. That's the beauty of a God who became fully man. He gets it. He embraces it–and us. And he teaches us to keep believing, to hold on to hope, and to give thanks in every season.
For me and my family, we are walking into this season suffering the first big loss our family has experienced. My grandpa passed away earlier this month. We have been extremely blessed to still have all our grandparents in my immediate family. So while we knew this was coming, it is still sad and a definite transition. So when I saw Taylor's set with the gorgeous fall leaves, and one that specifically addressed this interesting season of belief–even in seasons of loss–I knew I wanted to do a page reflecting on the seasons we walk through.
This passage in John 11 has Jesus encountering his dear friends, Mary and Martha, as they are grieving the loss of their brother. Jesus says to them, "Whoever believes in me, though he die, yet shall he live, and everyone who lives and believes in me shall never die. Do you believe this?" And Martha replies, "Yes, Lord; I believe that you are the Christ, the Son of God, who is coming into the world." (John 11:25-27 ESV)
When we spend the days of our life living for Jesus and believing he is Christ, we secure our eternal life in heaven by his side. I know, without a doubt, that my sweet grandpa is in heaven–whole and complete–with Jesus. I believe it completely. But this is still a season of grief. But like it says in 1 Thessalonians 4:13, we do not have to grieve without hope. We have a greater hope for the moment when we will get to be reunited with those we have lost in this life.
So in this season that's so focused on the happy and special moments, but often so tinged with grief and loss, I want to remind you that you aren't alone. Jesus understands loss. And he places others in our lives who understand the pain we are facing. He gives us hope that we can find in his Word.
We can find ways to give thanks in every season. Today, I'm saying a thankful prayer for family and friends surrounding me. I'm grateful for scripture that holds words of peace and comfort. I'm thankful for the promise of eternity that I know my grandpa is experiencing and that I will someday get to experience as well.
A Creative Note:
I simply adore how our artists create GORGEOUS printables that all coordinate and work well together. Each set is lovely and unique on its own, but when you bring them together…all the heart eyes! On this page, I used 9 different sets!! Can you spot em all?!  Layering is all the rage right now, and I just want to tell you that you can easily create a fun layered page like this! If paints stress you out, no worries! This page is literally 90% printables with a tiny smidge of stitching, stickers and stamps on the side! Just grab a handful of printables and pick out your favorites. Thanks to Elaine's amazing mood boards each month, all the sets work really together. Plus all these leaves and florals make for really easy mix and match layering!
My system for making a fun, layered page:
Pick out some feature pieces. For me, this was the "Believe" leaf from Taylor's "Beleaf" set and Elaine's "Faith Walk" polaroid from her "Prayer Prints" set.
Decide how you want to layout your title. I decided to use Mandy's "give thanks" lettering and banner from her "Heartfelt" set. Then I just added some stamps and stickers to complete the title.
Layer away! I chose a bunch of fun florals and leaves and layered them around the title and the feature pieces.
Keep it balanced. I had my big featured pieces on the top of my page. So to balance it out, I grabbed a handful of patterned paper pieces by Mandy, Taylor and Jill–along with some of the brown paper bag packaging the kit came in! I tore some pieces up and sewed them together with my sewing machine. I also added some of Elaine's stitches from her "Stitched Textures" to match!
Last, but not least, don't forget your date stamp and tab!
And there you have it! A layered page to match the many layers in my heart as I walk on this journey of faith and trust, alongside pain and loss. I hope you'll join me in finding ways to give thanks in every season–the happy and the hard ones.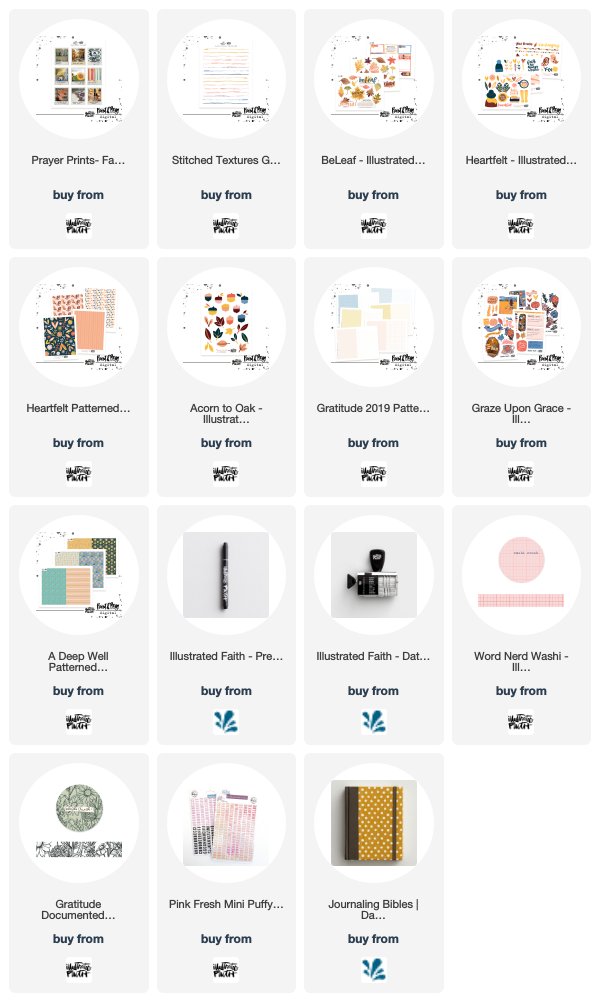 Additional Supplies: stazon ink blank | adhesive and foam adhesive | last year's advent buffalo plaid washi | tiny type writer alpha from illustrated faith