One of the questions I get all the time about using printables  is about how to use obscure images in your Bible. We sure have a ton of adorable printables available in the Print & Pray Shop, but when a set has an image like a robot or a superhero, you may find yourself wondering where it might fit in Scripture. Now, I'm no theologist, but I don't believe there are any mentions of robots in the Bible! Many new Bible journalers also think that if a passage mentions certain imagery, they HAVE to find a piece with that exact object. Well the truth about art is that not everything has to be so literal. We can use symbolism freely & as long as it's meaningful to us, that's what matters! I've compiled some images of Bible pages I've created using super fun images as symbols on my pages!
If you were wondering how to use a robot in your margins, here you go! This little cutie was used to symbolize being hand crafted by our Divine Creator, not made in mass on an assembly line. Our God creates each of us piece by piece & sculpts every little bit. I also used some barcodes off of household products to illustrate that as well! You could also use a robot to symbolize being transformed by Christ, & not being a societal robot!
I think we all know that they didn't have cameras in biblical times! That invention didn't come until MUCH later! But using a camera image as a symbol is SO easy & adorable! I've used cameras several times in my Bibles referring to being made in His image or capturing a moment. But in this instance, the camera represents sharing God's love through social media. Good ole' Instagram had to be represented, right? ;)
Fancy a glass of lemonade? This sweet drink was used as a symbol for SQUEEZING the love & wisdom out of God's Word & getting everything we can from it as Christians.
The printable on this page is actually the word "HOPE," but I used some butterflies I had in my stash as well. This passage has nothing at all to do with butterflies, but this was a desperate prayer for my family. I used 3 butterflies in a row to symbolize my husband, myself, & the baby we might have one day. <3
The very last page in this round-up uses a gingerbread house to represent the manger! I placed a star over it like it was the star that guided the wise men to Jesus. I also stapled 3 little gingerbread men at the top of the page to symbolize the 3 wise men!
I hope you got some inspiration from this post about how you can use some of your more fun & obscure images from your Print & Pray stash! Just have fun with it. Your heart may make connections to pieces that your brain may not. It's fun to share the meaning behind our work to others as well!
<3 Elaine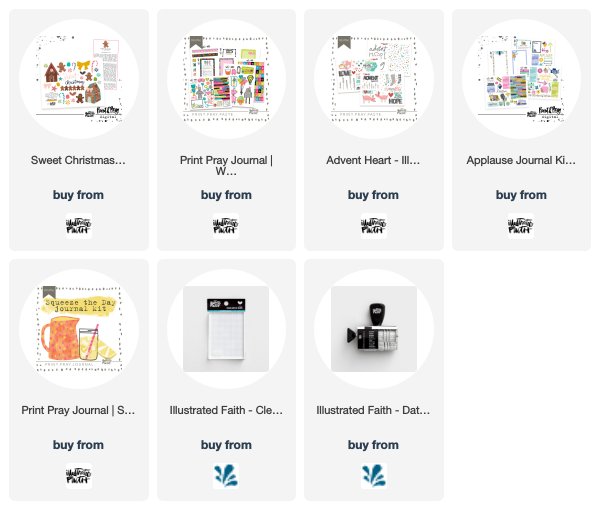 additional supplies: Illustrated Faith by DaySpring House stamp set by Shanna Noel | Bella Blvd Puffy Stars in Milk White | Tim Holtz Distress Inks pad in Worn Lipstick | Ranger Mini Blending tool | Dina Wakley heavy body acrylic paint in Blushing | Vicki Boutin art crayons | Master's Touch acrylic paint in Purple Red & Titanium White | Tombow Adhesive dot runner | Uni-Ball Signo pen in white | Prima Chalk Edger ink pad in Blossom Bud | Paper Smooches Christmas Sampler stamp set | Crossway ESV Single Column Leather Wrap journaling bible