Advent Greetings Beloved Illustrated Faith Tribe!
Who is "READY" for Christmas?  LOL  It's enough to make you shake in your boots, isn't it?  Christmas past sometimes made me feel like I wasn't enough, didn't have enough, didn't give enough.  I ended up exhausted trying to meet expectations I set for myself and disappointed at expectations I put on others.
In my earlier years (I am not sure but I think I might be as old as Mrs. Claus), I would have written multiple lists: gifts, decorations, work obligations, dates, ideas, creative desires, etc….  And then I would have the running list in my mind.  You know the one.  The list that won't let you sleep because it's a racing, jumble of thoughts.  You feel like you are gasping for air and just trying to figure out HOW to get it ALL done and WHAT list to put everything on.
This year, at DAY 6 I don't even have my tree up…. gasp…. I have a few gifts but no list.  I have some dates etched in my calendar but here's the deal:  I have chosen to prioritize JESUS and entered into all the places I can bring more of Him into my heart.  I have chosen to prioritize MORE of HIM less of the list.  And my heart is full of anticipation and Christmas joy.
I love the picture of our Great Shepherd in The Passion Version of Psalm 23:1-5.
Psalm 23
The Good Shepherd
David's Poetic Praise to God

¹God is my Fierce Protector and my Pastor.
I always have more than enough.
²He offers a resting place for me
In His luxurious love.
His tracks take me to the quiet brooks of bliss,
The oasis of peace.
³That's where He restores and revives my life.
He opens before me the pathways to God's pleasure,
Leading me along in His footsteps of righteousness,
So that I can bring honor to His Name.
⁴Lord, even when Your path takes me through
The valley of deepest darkness
Fear will never conquer me, for You already have!
You remain close to me and lead me through it all the way.
Your authority is my strength and my peace.
The comfort of Your love takes away my fear.
I'll never be lonely for You are near.
⁵You become my delicious feast
Even when my enemies dare to fight.
You anoint me with the fragrance of Your Holy Spirit,
You give me all I can drink of You until my heart overflows.
I can't think of anything this passage does not provide.
He is more than enough (v1),

He is our rest and oasis of peace (v2)

He restores and revives (v3)

He is our strength, peace, comfort, and companion in the midst of any darkness (v4)

He anoints us until our hearts overflow (v5)
My goodness Christmas!  YES!  More Jesus please.  More rest, peace, restoration, revival, strength, comfort, companionship, anointing.   I especially crave PEACE this year.  And here's the kicker, the more we have of Him, the more we can pour right back out!
Let's journal truth friends.
TUTORIAL
Who wants to try painting with watercolors using something other than a BRUSH?  I am going to try it!  Warning – Disclaimer – I have never done this before!
Setting up supplies –
I love to begin with several inspiration pieces around my Bible.  I premixed several blues to coordinate and got out a dropper and my trusty wax stick.
I started by drawing a rough box around my key scripture, Psalm 23, and a few crosses with my wax stick.  No real plan here, just adding a different dimension.  You can see a few more ideas using the wax stick here and here.
I am using a dropper from an old makeup container but any dropper will do.  Fill the dropper with your watercolor.
And then go to town.  I started by squeezing the color out in splatters.
I flushed my dropper with water in between colors.
You might need to use a paper towel to soak up excess color in your binding.
A bit boring.  So I experimented and started "drawing" squiggles.  I love this method.  You can see the color and squiggles pouring out and around the boxes I drew with the wax stick.    I want to convey the concept of "MORE" — Jesus pouring over.
More squiggles with the darker colors.
Happiness.  MORE Jesus.  Now I have to exercise patience and let my pages dry naturally.   NOT easy for me but I don't want the greyish lines that will occur with the wax markings if I heat up my page.
In between I grabbed my Sizzix and cut up some alphas with the awesome navy 12 x 12 paper called The Greatest Gift.  More on that here.  I usually find at least one paper in each collection that I want to make alphas out of and store in my treasure box.
I laid out my key phrase using an ornament from the Advent collection and added the super cute die cut cup.
I thought about what I wanted spilling out this Christmas.  PEACE.  JESUS.  The "Prince of Peace" sticker from the Advent kit is perfect.  MORE Jesus = MORE peace.
I like to use my mini Xyron to put adhesive on the backs of my alphas.
So simple to use.  Just run it through and peel it off.
Using my tape runner for the ornament.
Tab Time.
Layering Stickers from the Advent Fundamentals sheet over a bit of Advent kit washi.
Another sticker.
Date Stamp.
And a bit of the clear ornament sticker cut into slices by the tab and at the bottom of the page around my cups.
I decided to use Illustrated Faith's new highlighter washi tape for the scripture.  I added the tape pieces and then smoothed them down with a paint card.
The highlighter tape is perfect.
I love how you can still see the watercolor textures below.
I think this is my favorite part of the entry.
Page complete.
Lord let our cups overflow with Your presence and Your peace this Advent.
Tag me if you try this dropper technique on Instagram @designsbyamybruce.
You are so loved.
Christmas hugs,
amy bruce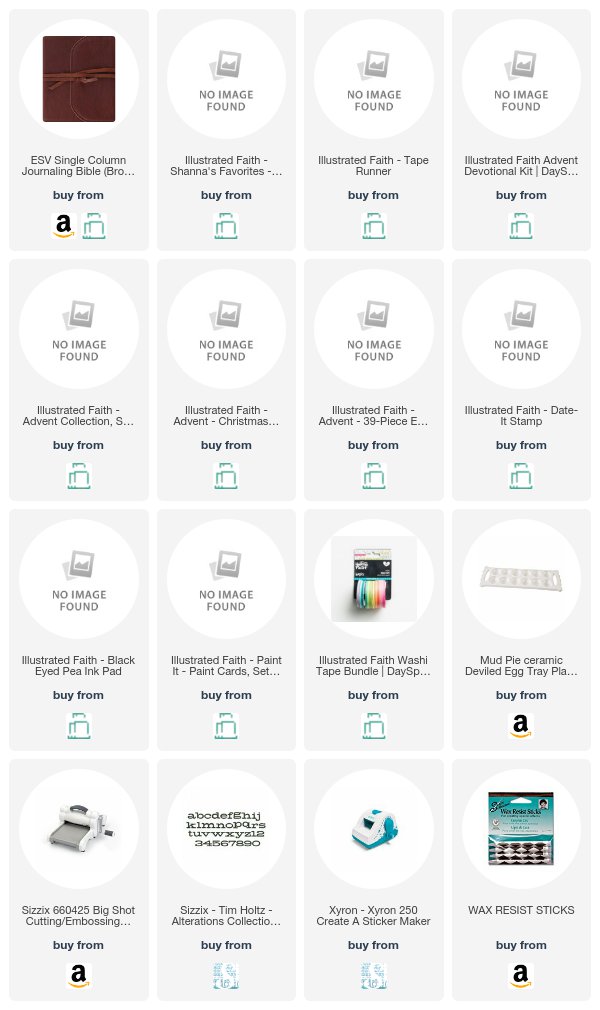 additional supplies: Daniel Smith Watercolors – various used in mixing, Dropper from Makeup Bottle