Raise your hand if you feel like you are not artistic (like I do!) I've read so many posts in the Journaling Bible Facebook page where people say that they aren't artistic and don't know what to do in the Bibles. There is so much beautiful artwork posted on the page that, if I compared myself to them, I would feel so intimidated! I have never felt artistic – when I taught school, my students made fun of my stick figures! I don't have any art training; I'm a scrapbooker and a paper-crafter, who loves God and His Word and love bringing the words to life in the margins of my Journaling Bible.
Today I thought I'd share some techniques that I've used for "illustrating" without drawing in my Journaling. I have used all sorts of products from rub-ons and die-cuts to alphabet stickers!
I rubbed on this bold heart border from My Mind's Eye and then colored the hearts in with colored pencil. To add more color to the page, I added a bright flower sticker with a rub on added to the top. These simple things draw my eyes to words I've highlighted that mean so much to me.
This week I read Psalm 23 in my daily reading, and even though I've probably read it a hundred times before, this time it meant more than ever, and I was overwhelmed with God's love and care for me. I decided to stamp on my page to show another way to illustrate these verses. I love this stamp of a little child pulling a wagon. It was too wide to stamp on my page with the wagon the way it was, so I taped that part off and applied the ink pad to just the part of the image I wanted. It's kind of scary to stamp in your Bible, so I did a couple test images on a scrap of paper to be sure I knew what I was doing.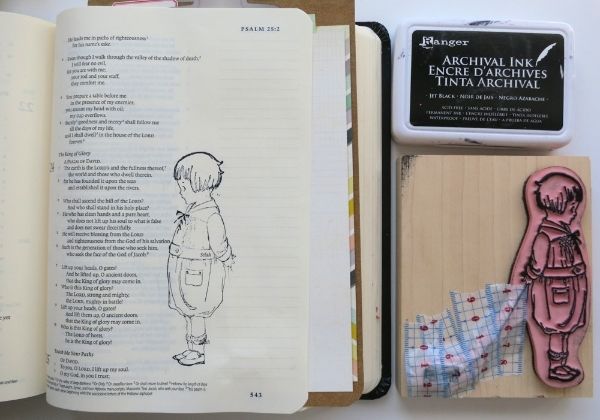 Then I masked off the child and stamped the little wagon.
I used colored pencils to color it in.
As I read the Psalm again and underlined and highlighted the phrases that meant the most to me, I noticed that it says that the Lord both leads me and follows me with His goodness and mercy. I added the little heart stickers to the wagon and wrote on them with an American Crafts Slick Writer pen that is perfect for writing on shiny surfaces.
I used a variety of letter stickers to add those ideas to the margin. (I got the word "goodness" by cutting two stickers and putting them together. One said good times and the other said happiness.)
Supplies | Journaling Bible | Here is a similar bible currently in stock | October Afternoon Alpha | Mini Market Alphas | American Crafts Die-Cuts | Open Book Die-Cut | My Mind's Eye Rub-Ons | Watercolor Pencils 
Even though I can't draw and can't do gorgeous original artwork, I love this! It expresses my heart and helps me to focus on truths I want to remember today.
I hope this gives you a few ideas to use in your Bible illustrations – the possibilities are endless!
– Debby